| | |
| --- | --- |
| 5 Minutes for Business: Canada's Economy is Booming, But Will It Last?? | Friday, November 10, 2017 |
Boom! Canada hit 4.5% growth in the second quarter after a torrid 3.7% expansion in Q1! Sounds like growth in India, not a sleepy advanced economy. As a result, Canada's deficit is lower than expected and the government announced additional spending. So is it time to stop worrying and pop the champagne?
There are four key drivers of this bonanza: (1) export growth thanks to the oil and gas sector; (2) consumption, because Canadians continue to borrow and spend like there is no tomorrow; (3) housing which saw the biggest gains in 8 years; and (4) a healthy gain in business investment. The question is whether these are likely to continue?
Firstly, Canada's exports are set to rise 8% this year, which is superb, but is almost entirely driven by oil and gas sales which are up almost 42% so far this year (see chart on the following page). If you take out the petroleum sector, Canada's exports grew just 1%.
But the export boom won't last: the strong loonie and US weakness caused Q3 exports to fall 11.5%, while imports fell 7.1%. Net exports will be a drag on GDP growth for the rest of 2017.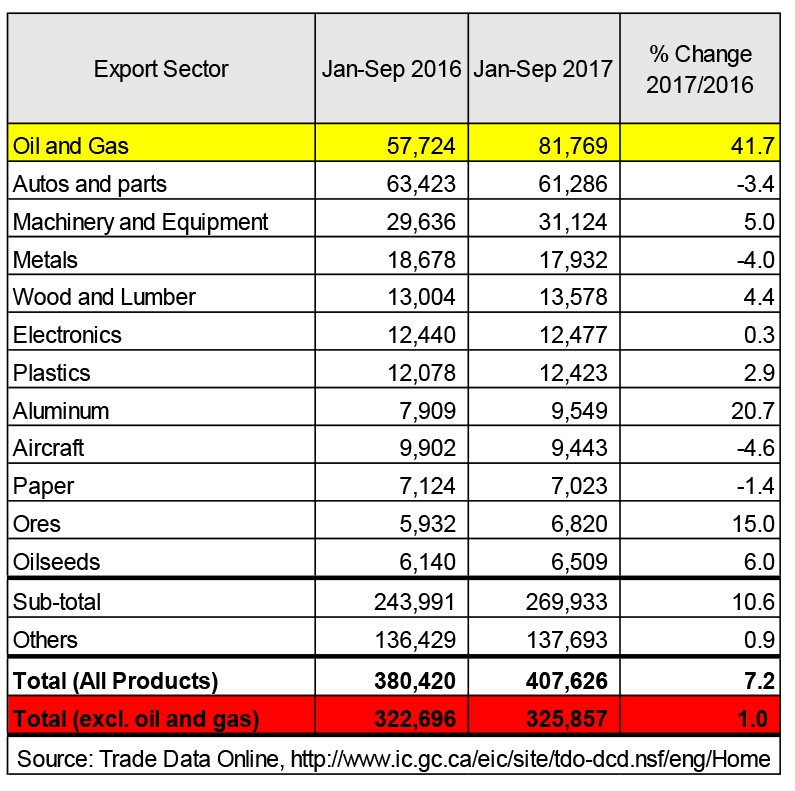 Consumption will also slow down in Q3. Retail sales fell two months in a row (July and August). And job growth slowed:  just 43K jobs were created in Q3, the weakest quarter in a year, with gains entirely in the self-employment category. Private sector employment fell for the first time since 2015.
Housing has been a powerful driver of growth, but the foreign buyer tax hit Canada's largest and fastest growing real estate market in May. Toronto's home  sales have fallen 35% while prices were off 20%. The effects are likely to be temporary, as we saw in Vancouver, but will surely be felt in Q3.
 
The star of investment spending has been the recovery in the oil and gas sector but that is also facing tough times. The National Energy Board's expanded focus on downstream emissions has created an effective moratorium on new energy projects. TransCanada finally pulled the plug on Energy East and in the last two years, $82 billion of investment has been cancelled.
So, we can expect a sharp downturn in exports and housing alongside much weaker consumption and business investment. Statistics Canada will release Q3 growth on December 1st and we expect it to be below 1%. What should we do? How do we keep growing?
Look around the world - these are exciting times in tax policy! France has just embarked on major tax reforms, with a 2017 budget that reduces or eliminates several business taxes, while lowering overall rates. The UK Government undertook a major tax reform effort last year, but backed away from the most contentious measures in April 2017. And in the US, Congressional Republicans are determined to press ahead with a biggest tax reform in 30 years, to slash the general corporate rate from 35% to 20% while eliminating certain tax credits.
What is Canada doing in the midst of our trading partners' laser-like focus on competitiveness? We've just spent most of the summer in a ferocious battle over income sprinkling.
Instead, Canada could create an internationally competitive system of business taxation that rewards entrepreneurship, encourages businesses to invest in the technologies, skills, and capacity they need to grow, and attracts capital and highly qualified people from around the world. That would ensure Canadian growth for generations!
For more information, please contact:
Hendrik Brakel
Senior Director, Economic, Financial & Tax Policy
hbrakel@chamber.ca
| | |
| --- | --- |
| | Canadian Chamber of Commerce at 1:38 PM |
| | |
| --- | --- |
| 5 Minutes for Business: Fighting for NAFTA—Better to Have No Deal than a Bad Deal | Monday, October 16, 2017 |
Never in the history of trade negotiations have we seen a country's largest, most important business  association openly call its government's trade proposals "dangerous" and say they should be withdrawn. That is exactly what the U.S. Chamber of  Commerce did yesterday.
Canada's negotiators have done their very best in a challenging environment. They have reached out to Canadian people and business, they have extended a warm hand of friendship to their U.S. and Mexican counterparts and they have tabled sensible, generous proposals to improve NAFTA. But, we all have to prepare for the possibility that the U.S. will withdraw from NAFTA, based on the poisonous proposals U.S. negotiators have presented.
The craziest is a sunset clause that would terminate NAFTA after five years unless all three parties agree it should continue. Imagine the uncertainty of having all three countries debate the merits of trade every five years. How could anyone plan to build a factory with a useful life of 30 years? NAFTA would cease to exist for the purposes of long-term business investment.
The second troubling proposal concerns the rules of origin. Currently, 62.5% of a car or a truck must be produced in the U.S., Mexico or Canada for it to qualify for duty-free treatment under NAFTA. The U.S.'s proposal would require that 50% of the vehicle be produced in the U.S. This would be immensely harmful to the North American auto industry. It's impossible to replace long-established multi-billion- dollar supply chains so most companies would simply pay the generally low U.S. tariffs. Manufacturers would then source more inputs from Asia.
The third concern is the administration's proposal to eliminate Chapter 19, the process for dispute  settlement for anti-dumping and countervailing duties.
 
This comes at a time where the U.S. wants to impose a ludicrous 300% tariff on Bombardier jets, which is above even what Boeing had asked for. Chapter 19 is a critical safety net because it enables an independent, binational panel of five arbiters, agreed by both parties, to determine whether or not the duties have merit based on U.S. domestic laws. This is a must-have for Canada.
The final jaw-dropping proposal would drastically reshape NAFTA's procurement rules. U.S. negotiators are proposing a "dollar for dollar" approach to North American procurement markets. That would mean "the total value of contracts the Canadians and Mexicans could access, together, couldn't exceed the total value that U.S. firms could win in those two countries." This is quite simply the worst offer ever featured in a trade agreement and is worse than basic access to government procurement offered under the WTO. Canada would be better off with no agreement at all than signing on to this nutty nonsense.
At the Canadian Chamber of Commerce, we salute the government's efforts on NAFTA. The government has done everything possible: our negotiators have been outstanding, Minister Freeland and the entire Cabinet have invested enormous time in building relationships in the U.S., and the PM has invested his political capital and considerable charm to go to bat for NAFTA.
ut, if the U.S. administration is not serious about negotiating a mutually beneficial agreement, then we believe no deal is preferable to a bad deal. This is because a trade agreement will last many years. The Trump administration, we're not so sure…
For more information, please contact:
Hendrik Brakel
Senior Director, Economic, Financial & Tax Policy
613.238.4000 (284) 
| | |
| --- | --- |
| | Canadian Chamber of Commerce at 8:46 AM |
| | |
| --- | --- |
| Growing coalition confirms tax proposals will affect middle-class business owners | Thursday, September 28, 2017 |
Leading tax practitioners say that business owners with income as low as $50K will be affected
Ottawa, September 27, 2017 – The Coalition for Small Business Tax Fairness, a unified voice of more than 70 organizations representing hundreds of thousands of business owners across the country, has written a new letter to Finance Minister Bill Morneau with professional analysis confirming that Ottawa's tax proposals will affect middle-class business owners, resulting in higher tax rates than other Canadians with similar income levels.  
"We are alarmed by the huge gap between the government's statements about the impact of their proposals and the detailed analysis by Canada's tax professionals," said Dan Kelly, President of the Canadian Federation of Independent Business (CFIB) and member of the Coalition. "Tax practitioners are united in the view that these changes have the potential to affect all small business taxpayers, no matter their income."
"It is the farmers, mom and pop shops, and entrepreneurs, who invested everything into their businesses, that will be most affected by these changes, instead of targeting the real problem. The government needs to go back to the drawing board, hold a real consultation and listen to what tax professionals, provincial governments and the business owners who fuel the growth of our communities are saying," added Perrin Beatty, President and CEO of the Canadian Chamber of Commerce.
The government has claimed that these proposals would not affect business owners with incomes under $150,000. Tax practitioners disagree.
One of the new rules introduced by the government would restrict small business owners from sharing income with family members. Tax practitioners say that this can affect business owners with incomes as modest as $50,000. Also, as two-thirds of Canadian incorporated businesses are majority owned by men, the restrictions on sharing income with a spouse are likely to remove a disproportionately higher number of women from benefiting from their family's business.
The government is also proposing changes that would discourage small business owners from holding certain types of investments in the incorporated company. According to tax practitioners, business owners retain business earnings in the corporation to safeguard against economic downturns, secure bank financing and invest in other start-up companies.
Tax practitioners have confirmed that the proposed tax changes would result in higher combined corporate and personal taxes for business owners across the board and in many cases, small business owners would incur tax rates far greater than what an employee with a similar level of income would pay. 
The Coalition, which has doubled in size since August 31, is asking the federal government to review carefully the analyses of tax professionals across the country, take these proposals off of the table, and launch meaningful consultations with the business community to address any shortcomings in tax policy.
The Coalition for Small Business Tax Fairness is encouraging business owners and other concerned Canadians to contact their Members of Parliament and use the hashtags #unfairtaxchanges #taxesinéquitables on social media. For the full list of Coalition members, please visit smallbiztaxfairness.ca.  
For media enquiries or interviews, please contact:
Andy Radia
Media Relations Specialist
647-464-2814
What some are saying:
"The agriculture equipment manufacturing sector represents 12,000 Canadians and their families predominantly in rural areas; as entrepreneurs who have put their lives on the line to invest in and grow their family business, the sector consistently exports more than $1.8 billion of farm equipment to over 150 countries. The scope and complexity of the proposed tax changes puts a lot of this at stake, and we must fight to ensure that fairness prevails for our members." — Leah Olson, President, Agricultural Manufacturers of Canada
"Franchisees are the backbone of the communities they serve, by employing people of all backgrounds, supporting local initiatives, and helping grow the economy. As business owners, they assume significant risk, but have been able to achieve success through hard work and support from family members. Simply stated, CFA believes the changes being proposed by the Minister will hurt Canadian franchisees." — Ryan J. Eickmeier, Vice President, Government Relations & Public Policy, Canadian Franchise Association
"The residential construction and renovation industry has always largely consisted of family-run businesses that help build the communities they operate and live in, many over several generations. These are hard-working Canadians trying to earn a middle-class living, hire local workers, and create a future for their families. The government's proposed tax changes threaten the very existence of these businesses, posing a threat to small local companies in every community and the jobs they create." —Kevin Lee, CEO, Canadian Home Builders' Association
"We look forward to working with the Minister of Finance to ensure that any changes help secure the future of agriculture and not hinder it." — Mark Wales, Chair of the Canadian Horticultural Council's Business Risk Management Committee
"We are fully supportive of the government's pledge to advance evidence-based policy-making. Our members are concerned that the government's proposed changes to small business taxes are not sufficiently informed by the level of research, analysis and consultation required to ensure a full appreciation of the impacts this will have on Canadians - not just entrepreneurs and small business owners but also on the overall health of the Canadian economy and competitiveness in the short and long term." — Leigh Harris, Vice Chair (Interim) National Board of Directors, CMC-Canada
"Canadian business families are scared, confused, and demoralized. Years of planning for business succession will potentially go up in smoke! And we're being called tax cheats along the way. Canada can do better, we must do better—our economy depends on it."— Allen S. Taylor, Chair, Family Enterprise Xchange
"These egregious proposed tax changes would negatively impact the family farm in ways that are both profound and complex. The federal government needs to reverse course on their ill-advised tax hike attack on our middle-class family farms. — Levi Wood, President of the Western Canadian Wheat Growers Association, grain farmer
| | |
| --- | --- |
| | Canadian Chamber of Commerce at 12:36 PM |
| | |
| --- | --- |
| 5 Minutes for Business: Hammering Business – Finance Canada's New Crackdown | Wednesday, August 23, 2017 |
These are not tweaks! The government has just proposed the most radical tax overhaul in 50 years. We're particularly worried about the impact on business from (1) a new tax on investment income in a corporation and (2) tough new rules for compensation in family businesses. Why is the government doing this?

The Minister says it's all about "fairness," and his consultation document compares the tax treatment of a business owner with that of an employee to point out corporations have "unfair" advantages. But, the comparison makes no sense—there are good public policy reasons for why owners are taxed differently.

Because unlike an employee, a business owner doesn't get a pension or health benefits or vacation pay. She invested her own money to get the business started. Or, she pledged her personal assets (house, car) as collateral for a loan. She has employees who depend on her. And, if nobody wants her goods or services next month, she does not earn a penny.

That's why in every advanced economy in the world, businesses can accumulate and invest after-tax retained earnings so they have money to get them through an economic downturn or to make big capital investments. One owner told us, "I keep most of the earnings in the company because we're trying to grow and because in construction, we go through tough cycles when business dries up."

The government wants to tax "passive" (invested) income. It says it's a crackdown on "high income individuals," but the rules would apply to all incorporated businesses in Canada, most of whom are restaurants, retailers, farmers and consultants—to punish them for saving and investing. It gets worse!
Finance Canada also expects to raise $250 million by cracking down on "unreasonable" salaries paid to family members, which it says diverts corporate income into lower tax brackets. But, to pull in $250 million, CRA will have to tax over $1 billion in salaries and audit hundreds of thousands of businesses. Imagine the litigation! You're paying your spouse $80K, but the CRA believes he or she should only be earning $50K. Do you go to Tax Court? An owner told us, "if my son had not worked 12 hours a day, my business might not have succeeded. Painting us all as cheaters is unfair and discriminatory."

Incredibly, Finance Canada has managed to design a set of tax measures that would hit the maximum number of businesses in the most complicated way for a small amount of revenue. The expected $250 million is less than 1% of the federal deficit.

Nobody supports tax evasion or loopholes. But these changes will punish legitimate businesses. And, they come after the government cancelled reductions in the small business tax rate, tightened rules on partnerships and started taxing work in progress. That's on top of new carbon taxes, raised CPP premiums and an increase in the EI rate. Our members are asking why this government keeps raising taxes on business.

We're not sure what to tell them, but there is an important test ahead. Finance Canada has launched a consultation even though it is clearly determined to move forward—the legislation is already drafted. So email or call your local MP to tell him/her the government is proposing to hammer business with tax changes that will hurt families and punish
entrepreneurs. Only MPs have the power to slam the brakes on Finance Canada's runaway train.

For more information, please contact :
Hendrik Brakel
Senior Director, Economic, Financial & Tax Policy
613.238.4000 (284) | hbrakel@chamber.ca
| | |
| --- | --- |
| | Canadian Chamber of Commerce at 10:32 AM |
| | |
| --- | --- |
| 5 Minutes for Business: Modernizing NAFTA – Come Join Our Campaign! | Monday, June 26, 2017 |
We remain optimistic that NAFTA 2.0 could be a huge boost to the economies of North America because there is so much to be gained. But we're also starting to worry: anti-trade rhetoric and posturing could veer the talks towards trouble. There are a lot of contentious issues to resolve in an unreasonably short deadline. Trade, in general, and NAFTA, in particular, are massively unpopular with Trump supporters.
And the decision-making in Washington D.C. around trade issues has become increasingly chaotic, with U.S. business groups pushing back aggressively against nationalists in the administration. We've already seen an executive order to withdraw from NAFTA, where President Trump told the Washington Post, "I looked forward to terminating. I was going to do it." It was the uproar from U.S. business that forced the Trump Administration to reverse its position.
And again this week, the U.S. government appeared poised to make a dangerous decision on steel tariffs. The Commerce department was supposed to brief Congress on the tariffs last Friday, but the meeting was cancelled. Officials are now scrambling to alter the decision after ferocious blowback from U.S. business.
The lesson is clear: the most important group advocating trade is not politicians or (god help us) economists. It's the business community because businesses understand the real world consequences, the jobs that depend on trade. These folks have a very powerful message that resonates with the general public as well as local members of Congress and Senators. And they are the most credible on the benefits of trade.
It's exciting to see business at the forefront of this campaign, and we need your help. The Canadian Chamber is organizing visits to key U.S. states, including Tennessee, Texas and Georgia. (We've already been to Virginia and South Carolina.) We'll be meeting local businesses and U.S. political leaders to raise awareness of the benefits of the Canada-U.S. relationship and to point out the risks of damaging it.
Our CEO, Perrin Beatty, recently pointed out, "When you go to Washington and meet politicians on Capitol Hill, you're just another foreign lobbyist. But when you go out to their congressional district in Memphis, with Canadian business leaders who are investing in the local economy, importing their goods and hiring their workers, then you are priority number one."
Participants are needed to make this strategy effective. Businesses, large and small, in all sectors are invited. We would also appreciate if you could provide us with information about your relationships in those states— the key suppliers, major investments, etc. Canadian firms with local offices in these states can help by alerting the local branches of our visits and asking them to participate in events or perhaps host site tours, etc. If you'd like to participate or join any of our delegations, please email us.
We're also playing a direct role in Canada's NAFTA negotiations. Our CEO met last week with the Cabinet Committee and our Vice President is on the Chief Negotiator's consultative committee. Our framework NAFTA brief has been submitted to the Global Affairs department. We'll be providing additional information to our trade negotiators in the coming weeks and months. If you have trade issues that you want us to bring to Canada's NAFTA negotiators, please email us.
Let's put the power of the network behind NAFTA. Our economies and our jobs depend on it.
For more information, please contact :
Hendrik Brakel
Senior Director, Economic, Financial & Tax Policy
613.238.4000 (284) | hbrakel@chamber.ca
| | |
| --- | --- |
| | Canadian Chamber of Commerce at 12:00 PM |
| | |
| --- | --- |
| 5 Minutes for Business: How Europe Got Her Groove Back | Tuesday, June 13, 2017 |
Poor Europe! She suffered years of economic stagnation and austerity. Costly government bailouts and a drawn-out banking crisis sapped her confidence. Terrorism and an unprecedented surge of migrants poisoned political debate and encouraged extremists. The final insult came when the British voted to leave her.
By the end of 2016, popular wisdom was that Europe's politics were so shattered and her people so fed up, that upcoming elections would see right-wing extremists swept to power from France to the Netherlands, Austria and Italy. Even the gentle Scandinavians were eager to elect loons!
Except that didn't happen. The elections came and went. The Austrians and the Dutch elected moderates by healthy margins. The Trudeau-like French centrist Mr. Macron won the French presidency by a staggering 30%, in a victory so crushing that his opponent Mme. Le Pen announced her intention to change the name of her political party. Far from a wave of Trumps, Europe is governed by sensible moderates (with the exception of Orban in Hungary).
And recently Europe's economy has gone from strength to strength. All 28 members of the EU saw growth last year, and this will continue through 2017 and 2018.
In the first quarter of 2017, the European Union's economy grew at a healthy 1.9%, more than double the U.S. quarterly growth of 0.7%. European business confidence is near an all-time high for manufacturers and services. More importantly, business is spending – European investment will grow by 3% this year and 3.5% next year. And best of all: European consumers are a happy bunch with low debt levels and money to burn. Last week, consumer confidence hit the highest level since June 2007. Happy days are here again!
Canadian businesses see the opportunities. Hudson's Bay will invest $570 million in Europe this year and are targeting sales growth of 20%. The CEO Jerry Storch says profits will grow even faster than sales.
So far in 2017, some of Canada's fastest growing export markets can be found in Europe. Exports to Germany are up 9%, sales to France are up 14% and the Netherlands are up 10%. And Canada's investments in Europe are even larger. The total sales by Canadianowned companies operating in Europe exceeds $100 billion. That's more than triple the value of Canada's direct exports to the region.
Investors have noticed that Europe has her confidence back, and she's even got a bit of swagger. When Mr. Trump promoted Brexit to other EU countries, the President of the European Commission Jean-Claude Juncker said "I'm going to promote the independence of Ohio and Texas." Europe has also started flexing her muscles and is about to embark on a new defence spending spree.
And thanks to far-sighted trade ministers, Ed Fast and Chrystia Freeland, the Comprehensive Economic and Trade Agreement (CETA) will come into force soon. We've all been so focused on the NAFTA renegotiation and those fabulous 3 a.m. tweets. Let's not lose sight of a spectacular opportunity for Canadian business. With 500 million people and GDP of $18.5 trillion, the EU is the world's largest economy, so a return to stability and growth will have a stimulating effect on the whole global economy. Welcome back Europe!
For more information, please contact :
Hendrik Brakel Senior Director, Economic, Financial & Tax Policy
613.238.4000 (284) | hbrakel@chamber.ca
| | |
| --- | --- |
| | Canadian Chamber of Commerce at 8:44 AM |
Contributors
Latest Posts
Archive
Tags
Everything
Manufacturing
Cambridge
Events
Spectrum
New Members
Taxes
Region of Waterloo
The Chamber
Property Taxes
Government Waste
Cambridge Chamber of Commerce
Networking
Success
Di Pietro
Brian Butcher
Greg Durocher
Scott Bridger
Food
Blog
Canada
Ontario
Cambridge Memorial Hospital
Business After Hours
Discounts
Member Benefits
Affinity Program
Web Development
Visa, MasterCard, Debit
Big Bold Ideas
Politics
Elections
Municipal
Provincial
NDP
Liberals
PC
Vote
Majority
Christmas
Homeless
Leadership
Oil Sands
Environment
Rail
Pipelines
Keystone
Canadian Oil
Canadian Chamber of Commerce
Small Business
Next Generation
Cyber Security
Millennials
Energy
Trump
Washington
Polls
US Congress
Bresiteers
Trade
NAFTA
Europe
Economy
Growth
Export
Minimum Wage
15 dollars
Bill 148
Cost Burdens
Loss of Jobs
Investing
Finance Canada
Capital Gains Exemption
Tax Proposal
MIddle Class
Member of Parliment
Unfair Changes
Small Business Tax Fairness