The cumulative energy of Chambers nationwide took the spotlight at the Canadian Chamber of Commerce's recent CCEC Conference and AGM in Ottawa.
More than 400 delegates representing Chambers from across Canada gathered Oct. 12-15 in our nation's capital to brainstorm and attend presentations pertaining to a variety of issues to help these organizations assist businesses. These included everything from generating revenue ideas and the importance of digital transformation, to promoting advocacy and promoting staff growth to create more impact in helping to recruit Chamber Members. As well, the AGM featured several interesting panel discussions and guest speakers, among them U.S. Ambassador to Canada David Cohen who outlined the importance of business relations between the two countries and potential hurdles, as well as John Graham, President and CEO of the Canada Pension Plan Investment Board.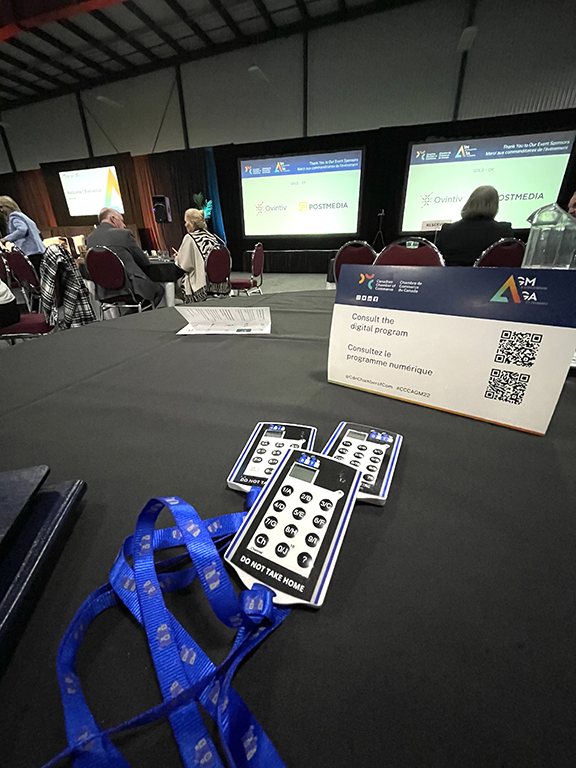 "The calibre of the discussion at the CCEC (Chamber of Commerce Executives of Canada) and AGM is always top-notch and provides the Chamber network with new ideas that can go a long way in helping our Members succeed," says Chamber of Commerce President & CEO Greg Durocher, who received a special nod of recognition from Canadian Chamber of Commerce President and CEO Perrin Beatty during his opening remarks at the AGM for his work in creating the pilot rapid antigen screening kit program for businesses. To date, Mr. Beatty said the program has resulted in the distribution of more than 10 million kits to businesses nationwide.
During his address, Mr. Beatty touched on current labour and supply chain concerns facing communities nationwide and the importance of the Chamber network in developing growth minded policies to assist the economy to flourish.
"Growth doesn't just happen spontaneously, it takes planning," he said, noting the value and strength contained within the Chamber network to implement change. "Nationwide, Canadian Chambers are fighting for Canadian businesses."
Policies helping businesses
This year, 61 policy resolutions were up for debate in a variety of categories including agriculture, international affairs, human resources, transportation, natural resources and environment, and finance and taxation.
The Cambridge Chamber of Commerce's policy calling for the creation of a more equitable tax distribution plan to assist Canadian municipalities was among 53 approved by delegates. Our policy calls for the review of current funding mechanisms to ensure municipalities can fund their needs, including physical and social infrastructure to set the stage for economic recovery in communities, which in turn is good for local businesses. Besides carrying the lion's share of Canada's public infrastructure funding, municipalities have continued to face additional pressures surrounding a myriad of issues including housing, public transit, public safety, the opioid crisis, telecommunications and broadband, to name just a few.
"Our policy calls for all levels of government to sit down at the same table to work out a fairer tax distribution plan to meet the needs of Canadians and formulate local solutions that will help businesses succeed," says Greg. "Having the backing of the Canadian Chamber network can go a long way to create positive results in the right direction."
The approved policies now become part of the Canadian Chamber's policy 'playbook' in its efforts to advocate for change.
To learn more about our advocacy and policy work, visit https://bit.ly/3ez63vZ.