| | |
| --- | --- |
| 5 Minutes for Business: There is no low carbon economy without a regulatory system that works | Sunday, January 13, 2019 |
The federal government recently announced it had made available 1.6 billion dollars to support Canada's struggling oil and gas sector. While the Federal Government's recognition of the crisis faced by Canada's energy sector was welcome, the funds are a band-aid solution to what is a much larger structural issue.
Our regulatory system continues to put Canadian jobs and Canadian prosperity in jeopardy. We cannot get our energy products to global markets because not even the Federal Government seems able to get major infrastructure projects approved, let alone businesses.
Our recent report, A Competitive Transition: How Smarter Climate Policy can help Canada lead the transition to a low carbon economy, made it clear our energy resources are of strategic importance. Canadian oil and gas producers must be given the opportunity to lead Canada's strategy to reduce emissions, because only they know how to make investments and drive innovation.
Getting support right for this sector is not about offering the sector loans; it is about creating a regulatory system that will get projects like TMX completed. This is the "support" Alberta is asking for, and it is the action from the federal government that Canada needs.
A consistent, fair and non-burdensome regulatory system is the backbone of a strong economy. Without a regulatory system that can get major projects approved to move our energy to tidewater, we will continue to lose approximately $80 million a day.
This endangers the competitiveness of our economy and means fewer resources for essential public services or the commercialization of clean technologies. Without a regulatory system free from layered, duplicative standards and regulations, the cumulative costs will make climate policies too expensive for Canadian businesses. A regulatory system that is predictable, transparent, and free of needless cumulative costs, comes first. Doing it in the reverse, is putting the cart before the horse.

The Canadian Chamber will continue advocacy work on Bill C-69 to make sure major projects and foreign investment in this country are supported by a regulatory system that is predictable, clear and objective in its assessments.
 
This also means making it clear to decision makers that they must take action to reduce the cumulative costs businesses face so that carbon pricing does not become layered with other additional costs and regulatory standards.
Keep an eye out for our latest report, The Cumulative Cost of Climate Policy, which will make key recommendations on how to achieve meaningful climate action at the lowest possible cost to Canadian businesses.
For more information, please contact: policy@chamber.ca
| | |
| --- | --- |
| | Canadian Chamber of Commerce at 12:13 PM |
| | |
| --- | --- |
| 5 Minutes for Business: Good social media is good business | Friday, October 12, 2018 |
Small businesses in Canada face many challenges on their path to growth and even more so in becoming globally competitive enterprises.
We have heard the statistics before: SMEs account for 99.7% of Canada's businesses, but they contribute only 25% of our goods and services exports and less than a third of our GDP. How does that stack up against our G7 peers? In those countries, SMEs account for 50% of GDP and 56% of employment. Canada's record in scaling up small businesses into larger, globally competitive enterprises has to improve.
Recent research highlights the potential for Canadian SMEs to become much more competitive in the scaling process. One of the tools that helps Canadian companies grow globally is social media. It is easy to use, inexpensive and provides access to new customers in a variety of ways. Mobile connections are only accelerating that access because we can now purchase from anywhere at any time.
A whopping 70% of small Canadian companies use some form of social media and most use several. Instagram's
new study found nearly three in five SMEs agree that social media helps to connect
 
with customers in their cities. Additionally, over half also believe that it helps them find customers in other cities, provinces and countries. The study mentions that these online networks are used by small businesses to identify, attract and hire employees that are passionate about their products and services.
We know that more women use social media than men, resulting in women- owned businesses being more likely to adopt social media. This is important because we know that entrepreneurship has the highest ratio of gender inequality in the workplace, with only one in five SMEs being majority-owned by women. The adept use of social media by female business owners has the potential to narrow this gap and make a meaningful contribution to Canadian economic growth. Both the study by Instagram and a second study by SME research firm Clutch demonstrate that social media communities create opportunities for female entrepreneurs, help empower women-run businesses and lower the barriers to entry for women.
Not surprisingly, SME optimism and enthusiasm for social media is also partially driven by a younger demographic.
 
A majority of millennial SME owners agree that their business is stronger because of social media and that it is more important to their company than a website, which is why this age group plans to maintain or increase their investment in these platforms. Considering that millennials are now the largest cohort of the Canadian workforce, their social media use will increasingly play an important part of Canadian economic growth and competitiveness.
The impact social media has as a means to reach customers and encourage female entrepreneurship and millennial business ownership will continue to grow. We are quickly approaching a point where we will consider it a key driver of Canada's ability to scale up firms, achieve inclusive growth and compete globally in an increasingly digital economy.
In an ever-changing society, using social media not only ensures our companies and economy remain competitive, but is, ultimately, just good business.
For more information, please contact:
policy@chamber.ca
| | |
| --- | --- |
| | Canadian Chamber of Commerce at 3:43 PM |
| | |
| --- | --- |
| 5 Minutes for Business: New industry, new taxes, new fees: Undermining the fight against the illegal cannabis market | Monday, September 17, 2018 |
As of October 17, Canadian adults will be able to legally purchase and consume cannabis for recreational purposes; a year and a half after the federal government introduced its legislation to do so. It will mark the beginning of a fascinating battle between a new regulated industry and the existing illegal market that Canadians are currently turning to for recreational cannabis use.
This illegal market is the reason why the government made Canada the first large developed country to legalize recreational cannabis, seeking to displace illicit sales that profit organized crime to the tune of billions of dollars per year. How much? Statistics Canada reported that in 2015, Canada's illegal cannabis market was worth as much as $6.2 billion, nearly as much as Canada's wine market.
So what are the steps to legalizing a multi-billiondollar illegal market? Over the last 18 months, federal legislators and civil servants have been establishing a national framework for regulating access to cannabis, which includes rules for cultivation, production, possession and marketing. Meanwhile, provinces and territories have been busy setting the rules for distribution and retail sales. This has been accompanied by a frenzy of private sector activity to supply the legal market with licensed producers, retailers, ancillary businesses and others investing billions of dollars in this new sector.
Some of the factors that will influence how effective Canada's legal cannabis market is at reducing illegal sales include safety, quality, access, supply and branding. Like all markets, one of the biggest factors will be price. As the head of the federal Task Force on Cannabis Legalization and Regulation, Anne McLellan, told Members of Parliament studying the Cannabis Act, "Price point here is going to be key in terms of what you see in the illicit market and how effective the legal market is at moving people over."
In late 2017, the federal government reached a cannabis tax revenue sharing agreement with the provinces and territories. On top of sales taxes, the agreement included a cannabis excise or 'sin' tax of 10% of the retail price or $1 per gram—whichever is higher. The 10% tax is expected to raise $300 million annually for the provinces/territories and $100 million annually for the federal government. The agreement projected that including the excise tax, legal recreational cannabis will be priced around $10 a gram.
Only a few months later, Statistics Canada released a survey that found Canadians are currently paying an average of less than $7 a gram for cannabis. One would expect that this data would be a strong signal to policy makers not to propose additional taxes on legal cannabis, which would widen the gulf between legal and illegal market prices. One would be wrong.
Fast forward to this July, when Health Canada proposed four 'cost recovery fees'—otherwise known as user fees—on the industry to recoup the costs the government will incur by regulating the sector. User fees are typically associated with a specific service from the federal government, such is the case with the first three of the proposed fees: an application screening fee, an import/export permit fee and a security screening fee. However, it is the fourth fee that caught the industry's attention, one meant to recover other federal regulatory costs. An annual regulatory fee of 2.3% of gross revenue for licensed producers was proposed, with a 1% fee for micro-cultivators and processors. The proposal is expected to put an additional $100 million into federal coffers every year. No clear policy rationale has been shared with industry for how government determined the 2.3% fee level. The annual regulatory fee proposal also excludes any government service standards despite the legal requirement to do so. This additional tax (which is what the fee is), was also proposed after licensed producers had already negotiated multi-year supply deals with provincial wholesalers based on the previously announced 10% excise tax. On top these taxes and regulatory fees, some provinces are considering additional taxes; Manitoba has proposed an additional 6% social responsibility tax.
As others have warned, high government taxes and fees will hurt legal producers' ability to compete with the illegal market and ultimately hurt Canadians as well, which runs counter to the government's rationale for legalizing cannabis in the first place. The imposition of the 2.3% fee also disregards the hundreds of millions of dollars in tax revenues that will flow to all levels of government from this new multi-billion-dollar industry, that will include new personal income and payroll taxes, corporate income taxes and municipal property taxes. The government would be wise to wait on imposing this new tax until after regulators see how effective Canada's legal market is at displacing the illegal one.
There are other looming policy issues that will influence the effectiveness of breaking up the illegal market. The government of Ontario's recent decision to move from a sparsely populated government-run retail distribution network to a private retail model will increase the reach of the legal market in Canada's largest province. Municipalities across the country will need to deal with the hundreds of unlicensed dispensaries that are operating outside the law to protect retailers who are investing and operating within new provincial rules. The federal government must also move quickly to establish regulations for the recreational production and sale of cannabis edibles, beverages and other products that will remain in the hands of the illicit market after October 17.
As we approach legalization, this new industry is quickly becoming familiar with some of the competitiveness challenges facing other sectors in Canada—namely outdated government thinking on business taxes and fees. Deloitte has forecasted that Canada's cannabis market will be worth up to $7.17 billion in sales next year. To maximize the economic benefits to Canadians of this $7-billion market, governments must create an environment that supports businesses that are playing by the rules, so they can in turn create new jobs and investment, along with the significant tax revenue for governments that will follow.
On September 24 at 8:20 a.m. ET the Canadian Chamber of Commerce will be hosting a panel discussion with some of Canada's leading cannabis companies on the economic development opportunities and policy issues in front of the sector. You can watch a live webcast of the discussion by clicking here.

Session sponsored by: Deloitte.
For more information, please contact:
Ryan Greer, Director Transportation and Infrastructure Policy | rgreer@chamber.ca
| | |
| --- | --- |
| | Canadian Chamber of Commerce at 5:58 PM |
| | |
| --- | --- |
| 5 Minutes for Business: Sometimes Sustainability Is Just another Word for Common Sense | Monday, April 16, 2018 |
A few years ago, BC Comfort Air Conditioning, a B.C.-based company with over 45 years experience in mechanical HVAC services, noted employees were leaving the doors wide open in the chilly season for convenience.

One simple change—asking workers to keep that bay door closed—helped cut natural gas use by 65%, saving the company $7,000 a year and reducing carbon emissions by the same amount as planting 500 trees.

The company appears as one of 12 case studies in a new report, 200 Million Tonnes of Opportunity: How small and medium-sized businesses are driving Canadian clean growth, a report from Climate Smart Businesses. 200 Million Tonnes features stories from 800 SMEs in 13 sectors Climate Smart has worked with, offering real-world examples on how to cut costs by reducing emissions through actions like route optimization, paperless operations, heat recovery, employee engagement and more.

In another example, a company saved $65,000 in hauling costs by diverting 35% of its waste from the local landfill, reducing emissions by an amount equivalent to three tanker trucks of gasoline. A hotel chain in the Yukon was able to save

$180,000 a year by upgrading its incandescent light bulbs to LEDs. Sometimes the company's return on investment was not in savings but in happier employees or improved reputation.

Many small businesses, however, are short on resources but long on to-dos. When it comes to considering the sustainability of business operations, it can be intimidating to figure out that first step.

Luckily, there are tools to help. The World Wildlife Fund's Living Planet @Work program provides a list of activities and programs people can use to start the conversation in their workplaces. The WWF's Smart Office Challenge focuses on IT, which as a part of almost every business and a significant energy consumer, is a natural starting point for sustainability newbies. The tool offers a check list of simple actions that can have a big impact. For example, cutting energy consumption from PCs by half can be as simple as getting employees to turn them off at night. More information is available in this interview with the Canadian Chamber.

The Canadian Chamber is also partnering with Climate Smart to help share its training program across the chamber network. The Victoria Chamber of Commerce and the Mississauga and St. John's boards of trade will pilot the outreach program, offering their members a $1,000 discount. SMEs that belong to other member chamber of commerce are also able to access the discount on a first come-first served basis.

Contact Christine VanDerwill to learn more.

Flashy new innovations or clean technology start ups are exciting stories that make headlines and it can sometimes seem that is what sustainability is all about, but much of the time, going green can simply mean finding ways to use resources more efficiently.

When a business reduces its environmental impact by making better choices about how it uses energy and materials, some call it sustainability, but the practice has an older name: common sense.

For more information, please contact:  policy@chamber.ca.
| | |
| --- | --- |
| | Canadian Chamber of Commerce at 9:40 AM |
| | |
| --- | --- |
| 10 Ways to Build a Canada that Wins | Friday, February 9, 2018 |
10 Ways to Build a Canada that Wins in 2018
10 Ways to Build a Canada that Wins, provides business, decision-makers and government with a series of clear priorities and objectives that, if addressed, will give Canada a competitive edge, improve productivity and grow the economy.
| | |
| --- | --- |
| | Canadian Chamber of Commerce at 10:56 AM |
| | |
| --- | --- |
| 5 Minutes for Business: R v Comeau and the Fight for Interprovincial Free Trade | Wednesday, December 6, 2017 |
What do Canadians want for Christmas this year? It looks like we all have good cheer on our minds: An Ipsos poll1 released a few days ago found that 89% of Canadians believe they should be able to buy any amount of alcohol they want in one province and transport it to another.
Restrictions on the movement of beer and wine across provincial boundaries are just one example of the barriers that impede trade within Canada, drive up business costs, and hurt Canadian consumers.
In many cases, the problem is unnecessary differences in provincial and territorial regulations, leading to complex, and costly compliance requirements for businesses operating across provincial boundaries. In other more egregious cases, like restrictions on the interprovincial movement of alcohol, it is nothing less than out-and-out protectionism.
There is no question that freer trade among provinces and territories would lower the cost of doing business in Canada, attract more investment, and provide more choices at more competitive prices for consumers.
However, governments have been slow to take meaningful action to remove these barriers.
Restrictions on the sale and transportation of beer and wine have been off limits to any reform initiative. But, not all hope is lost. Like an awkward holiday dinner with the in-laws, beer and wine might save us still.
The Canadian Chamber is an intervener in the Supreme Court Case, R v Comeau. Gerald Comeau is the New Brunswick retiree who five years ago drove to Quebec to buy some alcohol. On his way home, crossing back into New Brunswick, he received a ticket from the RCMP for transporting alcohol across the
border. He challenged the ticket in court won. Now the case has gone all the way up to the Supreme Court.
Although the Comeau case is about alcohol, its implications are much larger. With the Comeau case, the Supreme Court has the opportunity to take an historic step towards freer interprovincial trade. The case rests on the interpretation of s. 121 of the Canadian Constitution, which states, "All Articles of the Growth, Produce, or Manufacture of any one of the Provinces shall, from and after the Union, be admitted free into each of the other Provinces."
The courts have interpreted this provision narrowly in the past, which has allowed provincial and territorial governments to enact trade barriers to protect domestic producers. However, the Chamber believes that a broader interpretation, which could outlaw many of the protectionist trade practices that have been engaged in for years, is appropriate.
As the Comeau case proceeds, there are signs that governments in Canada understand that the status quo is unsustainable. Earlier this year, the federal, provincial and territorial governments enacted the Canadian Free Trade Agreement, a pact which holds promise to remove barriers and facilitate regulatory harmonization between jurisdictions though a regulatory reconciliation process. While that is a nice stocking stuffer, a win for Gerald Comeau may be the perfect Christmas present for Canadians.
A short summary of the Comeau case and our legal argument is available here. Our lawyers present oral arguments at the Supreme Court hearing in Ottawa on December 6 and 7, 2017.
For more information, please contact:
Aaron Van Tassel, Policy Associate
613.238.4000 (262)
avantassel@chamber.ca
| | |
| --- | --- |
| | Canadian Chamber of Commerce at 3:50 PM |
| | |
| --- | --- |
| 5 Minutes for Business: Canada's Economy is Booming, But Will It Last?? | Friday, November 10, 2017 |
Boom! Canada hit 4.5% growth in the second quarter after a torrid 3.7% expansion in Q1! Sounds like growth in India, not a sleepy advanced economy. As a result, Canada's deficit is lower than expected and the government announced additional spending. So is it time to stop worrying and pop the champagne?
There are four key drivers of this bonanza: (1) export growth thanks to the oil and gas sector; (2) consumption, because Canadians continue to borrow and spend like there is no tomorrow; (3) housing which saw the biggest gains in 8 years; and (4) a healthy gain in business investment. The question is whether these are likely to continue?
Firstly, Canada's exports are set to rise 8% this year, which is superb, but is almost entirely driven by oil and gas sales which are up almost 42% so far this year (see chart on the following page). If you take out the petroleum sector, Canada's exports grew just 1%.
But the export boom won't last: the strong loonie and US weakness caused Q3 exports to fall 11.5%, while imports fell 7.1%. Net exports will be a drag on GDP growth for the rest of 2017.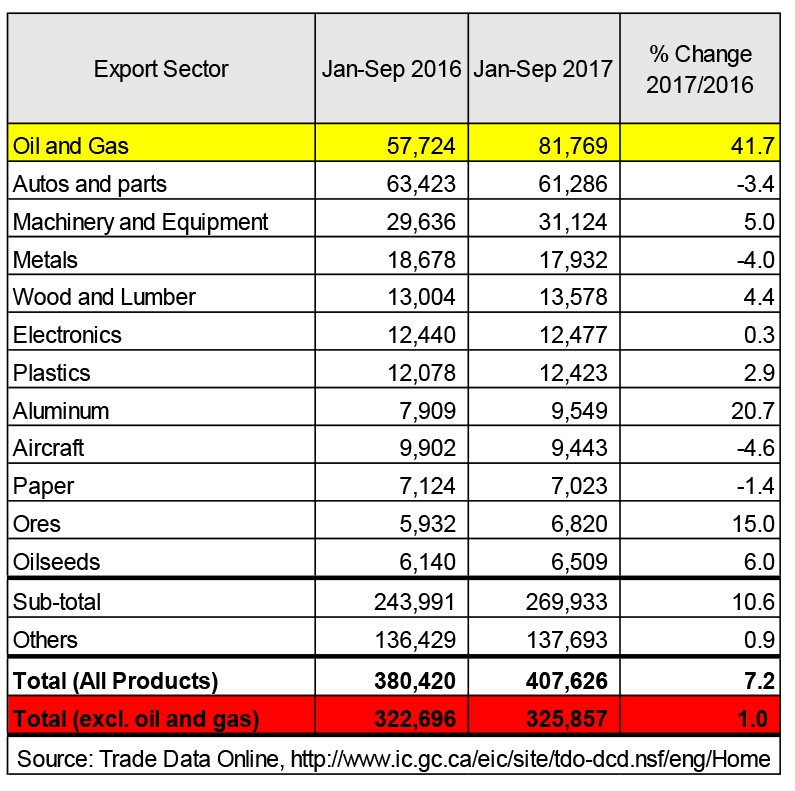 Consumption will also slow down in Q3. Retail sales fell two months in a row (July and August). And job growth slowed:  just 43K jobs were created in Q3, the weakest quarter in a year, with gains entirely in the self-employment category. Private sector employment fell for the first time since 2015.
Housing has been a powerful driver of growth, but the foreign buyer tax hit Canada's largest and fastest growing real estate market in May. Toronto's home  sales have fallen 35% while prices were off 20%. The effects are likely to be temporary, as we saw in Vancouver, but will surely be felt in Q3.
 
The star of investment spending has been the recovery in the oil and gas sector but that is also facing tough times. The National Energy Board's expanded focus on downstream emissions has created an effective moratorium on new energy projects. TransCanada finally pulled the plug on Energy East and in the last two years, $82 billion of investment has been cancelled.
So, we can expect a sharp downturn in exports and housing alongside much weaker consumption and business investment. Statistics Canada will release Q3 growth on December 1st and we expect it to be below 1%. What should we do? How do we keep growing?
Look around the world - these are exciting times in tax policy! France has just embarked on major tax reforms, with a 2017 budget that reduces or eliminates several business taxes, while lowering overall rates. The UK Government undertook a major tax reform effort last year, but backed away from the most contentious measures in April 2017. And in the US, Congressional Republicans are determined to press ahead with a biggest tax reform in 30 years, to slash the general corporate rate from 35% to 20% while eliminating certain tax credits.
What is Canada doing in the midst of our trading partners' laser-like focus on competitiveness? We've just spent most of the summer in a ferocious battle over income sprinkling.
Instead, Canada could create an internationally competitive system of business taxation that rewards entrepreneurship, encourages businesses to invest in the technologies, skills, and capacity they need to grow, and attracts capital and highly qualified people from around the world. That would ensure Canadian growth for generations!
For more information, please contact:
Hendrik Brakel
Senior Director, Economic, Financial & Tax Policy
hbrakel@chamber.ca
| | |
| --- | --- |
| | Canadian Chamber of Commerce at 1:38 PM |
| | |
| --- | --- |
| 5 Minutes for Business: Fighting for NAFTA—Better to Have No Deal than a Bad Deal | Monday, October 16, 2017 |
Never in the history of trade negotiations have we seen a country's largest, most important business  association openly call its government's trade proposals "dangerous" and say they should be withdrawn. That is exactly what the U.S. Chamber of  Commerce did yesterday.
Canada's negotiators have done their very best in a challenging environment. They have reached out to Canadian people and business, they have extended a warm hand of friendship to their U.S. and Mexican counterparts and they have tabled sensible, generous proposals to improve NAFTA. But, we all have to prepare for the possibility that the U.S. will withdraw from NAFTA, based on the poisonous proposals U.S. negotiators have presented.
The craziest is a sunset clause that would terminate NAFTA after five years unless all three parties agree it should continue. Imagine the uncertainty of having all three countries debate the merits of trade every five years. How could anyone plan to build a factory with a useful life of 30 years? NAFTA would cease to exist for the purposes of long-term business investment.
The second troubling proposal concerns the rules of origin. Currently, 62.5% of a car or a truck must be produced in the U.S., Mexico or Canada for it to qualify for duty-free treatment under NAFTA. The U.S.'s proposal would require that 50% of the vehicle be produced in the U.S. This would be immensely harmful to the North American auto industry. It's impossible to replace long-established multi-billion- dollar supply chains so most companies would simply pay the generally low U.S. tariffs. Manufacturers would then source more inputs from Asia.
The third concern is the administration's proposal to eliminate Chapter 19, the process for dispute  settlement for anti-dumping and countervailing duties.
 
This comes at a time where the U.S. wants to impose a ludicrous 300% tariff on Bombardier jets, which is above even what Boeing had asked for. Chapter 19 is a critical safety net because it enables an independent, binational panel of five arbiters, agreed by both parties, to determine whether or not the duties have merit based on U.S. domestic laws. This is a must-have for Canada.
The final jaw-dropping proposal would drastically reshape NAFTA's procurement rules. U.S. negotiators are proposing a "dollar for dollar" approach to North American procurement markets. That would mean "the total value of contracts the Canadians and Mexicans could access, together, couldn't exceed the total value that U.S. firms could win in those two countries." This is quite simply the worst offer ever featured in a trade agreement and is worse than basic access to government procurement offered under the WTO. Canada would be better off with no agreement at all than signing on to this nutty nonsense.
At the Canadian Chamber of Commerce, we salute the government's efforts on NAFTA. The government has done everything possible: our negotiators have been outstanding, Minister Freeland and the entire Cabinet have invested enormous time in building relationships in the U.S., and the PM has invested his political capital and considerable charm to go to bat for NAFTA.
ut, if the U.S. administration is not serious about negotiating a mutually beneficial agreement, then we believe no deal is preferable to a bad deal. This is because a trade agreement will last many years. The Trump administration, we're not so sure…
For more information, please contact:
Hendrik Brakel
Senior Director, Economic, Financial & Tax Policy
613.238.4000 (284) 
| | |
| --- | --- |
| | Canadian Chamber of Commerce at 8:46 AM |
| | |
| --- | --- |
| Growing coalition confirms tax proposals will affect middle-class business owners | Thursday, September 28, 2017 |
Leading tax practitioners say that business owners with income as low as $50K will be affected
Ottawa, September 27, 2017 – The Coalition for Small Business Tax Fairness, a unified voice of more than 70 organizations representing hundreds of thousands of business owners across the country, has written a new letter to Finance Minister Bill Morneau with professional analysis confirming that Ottawa's tax proposals will affect middle-class business owners, resulting in higher tax rates than other Canadians with similar income levels.  
"We are alarmed by the huge gap between the government's statements about the impact of their proposals and the detailed analysis by Canada's tax professionals," said Dan Kelly, President of the Canadian Federation of Independent Business (CFIB) and member of the Coalition. "Tax practitioners are united in the view that these changes have the potential to affect all small business taxpayers, no matter their income."
"It is the farmers, mom and pop shops, and entrepreneurs, who invested everything into their businesses, that will be most affected by these changes, instead of targeting the real problem. The government needs to go back to the drawing board, hold a real consultation and listen to what tax professionals, provincial governments and the business owners who fuel the growth of our communities are saying," added Perrin Beatty, President and CEO of the Canadian Chamber of Commerce.
The government has claimed that these proposals would not affect business owners with incomes under $150,000. Tax practitioners disagree.
One of the new rules introduced by the government would restrict small business owners from sharing income with family members. Tax practitioners say that this can affect business owners with incomes as modest as $50,000. Also, as two-thirds of Canadian incorporated businesses are majority owned by men, the restrictions on sharing income with a spouse are likely to remove a disproportionately higher number of women from benefiting from their family's business.
The government is also proposing changes that would discourage small business owners from holding certain types of investments in the incorporated company. According to tax practitioners, business owners retain business earnings in the corporation to safeguard against economic downturns, secure bank financing and invest in other start-up companies.
Tax practitioners have confirmed that the proposed tax changes would result in higher combined corporate and personal taxes for business owners across the board and in many cases, small business owners would incur tax rates far greater than what an employee with a similar level of income would pay. 
The Coalition, which has doubled in size since August 31, is asking the federal government to review carefully the analyses of tax professionals across the country, take these proposals off of the table, and launch meaningful consultations with the business community to address any shortcomings in tax policy.
The Coalition for Small Business Tax Fairness is encouraging business owners and other concerned Canadians to contact their Members of Parliament and use the hashtags #unfairtaxchanges #taxesinéquitables on social media. For the full list of Coalition members, please visit smallbiztaxfairness.ca.  
For media enquiries or interviews, please contact:
Andy Radia
Media Relations Specialist
647-464-2814
What some are saying:
"The agriculture equipment manufacturing sector represents 12,000 Canadians and their families predominantly in rural areas; as entrepreneurs who have put their lives on the line to invest in and grow their family business, the sector consistently exports more than $1.8 billion of farm equipment to over 150 countries. The scope and complexity of the proposed tax changes puts a lot of this at stake, and we must fight to ensure that fairness prevails for our members." — Leah Olson, President, Agricultural Manufacturers of Canada
"Franchisees are the backbone of the communities they serve, by employing people of all backgrounds, supporting local initiatives, and helping grow the economy. As business owners, they assume significant risk, but have been able to achieve success through hard work and support from family members. Simply stated, CFA believes the changes being proposed by the Minister will hurt Canadian franchisees." — Ryan J. Eickmeier, Vice President, Government Relations & Public Policy, Canadian Franchise Association
"The residential construction and renovation industry has always largely consisted of family-run businesses that help build the communities they operate and live in, many over several generations. These are hard-working Canadians trying to earn a middle-class living, hire local workers, and create a future for their families. The government's proposed tax changes threaten the very existence of these businesses, posing a threat to small local companies in every community and the jobs they create." —Kevin Lee, CEO, Canadian Home Builders' Association
"We look forward to working with the Minister of Finance to ensure that any changes help secure the future of agriculture and not hinder it." — Mark Wales, Chair of the Canadian Horticultural Council's Business Risk Management Committee
"We are fully supportive of the government's pledge to advance evidence-based policy-making. Our members are concerned that the government's proposed changes to small business taxes are not sufficiently informed by the level of research, analysis and consultation required to ensure a full appreciation of the impacts this will have on Canadians - not just entrepreneurs and small business owners but also on the overall health of the Canadian economy and competitiveness in the short and long term." — Leigh Harris, Vice Chair (Interim) National Board of Directors, CMC-Canada
"Canadian business families are scared, confused, and demoralized. Years of planning for business succession will potentially go up in smoke! And we're being called tax cheats along the way. Canada can do better, we must do better—our economy depends on it."— Allen S. Taylor, Chair, Family Enterprise Xchange
"These egregious proposed tax changes would negatively impact the family farm in ways that are both profound and complex. The federal government needs to reverse course on their ill-advised tax hike attack on our middle-class family farms. — Levi Wood, President of the Western Canadian Wheat Growers Association, grain farmer
| | |
| --- | --- |
| | Canadian Chamber of Commerce at 12:36 PM |
| | |
| --- | --- |
| Are you a business owner? Your MP needs to hear from you | Tuesday, September 12, 2017 |
If your business is incorporated, you could be facing a larger tax bill and big compliance costs from the government's new proposals to change the way corporations are taxed. Here are three things you need to know about the tax changes proposed by the federal government:
Do you employ family members? The government wants to scrutinize their compensation to apply a much higher tax rate on income they consider "unreasonable."

Do you invest the profits from your business? The federal government is proposing to tax that income at an effective rate of 70%. 

Do you want to pass your business on to your children? Tough new rules make it difficult for younger kids to get the capital gains exemption. They could be double-taxed.
Small and medium-sized businesses (SMEs) are the engine of the Canadian economy – estimates range from 85 to 90% of all businesses in Canada are SMEs.
The chamber network across Canada is using its collective voice on this issue; your voice as a business person needs to be heard as part of this initiative. Send a message to your MP today. Government needs to know that this tax reform will harm businesses of all sizes.
Don't know where to send the message to your Member of Parliament? Look up their address using your postal code.
Thirty-five business groups, including the Canadian Chamber—on behalf of the hundreds of thousands of members they represent—have presented a letter to Finance Minister Bill Morneau asking the government to take these proposals off the table and instead meet with the business community to address any shortcomings in tax policy affecting private corporations.
| | |
| --- | --- |
| | Canadian Chamber of Commerce at 9:26 AM |
Contributors
Latest Posts
Archive
Tags
Everything
Manufacturing
Cambridge
Events
Spectrum
New Members
Taxes
Region of Waterloo
The Chamber
Property Taxes
Government Waste
Cambridge Chamber of Commerce
Networking
Success
Di Pietro
Brian Butcher
Greg Durocher
Scott Bridger
Food
Blog
Canada
Ontario
Cambridge Memorial Hospital
Business After Hours
Discounts
Member Benefits
Affinity Program
Web Development
Visa, MasterCard, Debit
Big Bold Ideas
Politics
Elections
Municipal
Provincial
NDP
Liberals
PC
Vote
Majority
Christmas
Homeless
Leadership
Oil Sands
Environment
Rail
Pipelines
Keystone
Canadian Oil
Canadian Chamber of Commerce
Small Business
Next Generation
Cyber Security
Millennials
Energy
Trump
Washington
Polls
US Congress
Bresiteers
Trade
NAFTA
Europe
Economy
Growth
Export
Minimum Wage
15 dollars
Bill 148
Cost Burdens
Loss of Jobs
Investing
Finance Canada
Capital Gains Exemption
Tax Proposal
MIddle Class
Member of Parliment
Unfair Changes
Small Business Tax Fairness