When the first students arrive for class in September at Conestoga College's skilled trades campus, they will quickly discover a unique learning environment.
"It's going to be a living lab," says Suzanne Moyer, Conestoga Dean of Trades and Apprenticeships, describing the 322,000-square-foot state-of-the art learning facility taking shape at the former site of motorhome manufacturer Erwin Hymer on Reuter Drive. "The infrastructure is such that areas are exposed so that students can see how the building was built. You can walk into a classroom and actually see the duct work."
Suzanne says the building, the first part of a multi-phase plan for the campus to house all of Conestoga's skilled trades programs, has been designed with a very 'open and visible' concept towards learning with 150,000-square-feet of space dedicated to shops and labs.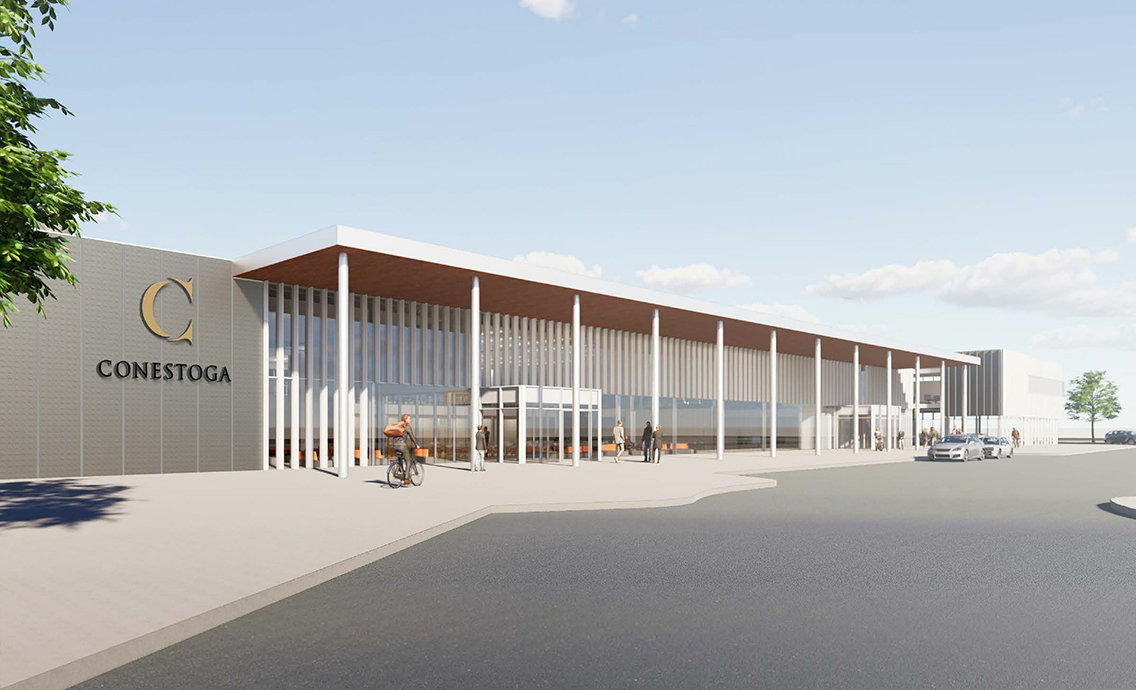 "There are lots of windows so if you're walking through the building, you can see what's happening in the shops and other students can also see what's going on," she says, noting the campus will heighten the college's successful approach of providing hands-on and practical learning. "Conestoga College has always been an advocate for skilled trades and in the last 15 years or so, we've really grown the amount of programming we have in the skilled trades."
The timing for this major move couldn't be more critical since the need for skilled trade workers only continues to increase in Canada, with a potential shortage of 60,000 workers expected by 2025. Currently, an analysis of 56 high-demand trade sectors nationwide indicates a shortage of approximately 10,000 skilled trades workers – which could be as high as 100,000 if all 250 regulated trades in Canada are considered. As well, the federal government says approximately 700,000 trade workers in Canada are likely to be retired by 2028.
"In part, we're definitely responding and aware of that need both regionally, provincially and federally," says Suzanne, noting a key goal was to consolidate the programs currently offered among the college's seven campuses at one central location. "With that you get more efficiencies, and you also get all the students in different trades working more closely together. There are many positive things that will come out of this by having everyone located in one area."
She admits there have been hurdles, including the pandemic, supply chain issues and labour disruptions, that delayed the project after Conestoga College purchased the site in 2019.
"But we've continued to adjust and amend the schedule and work our way through," says Suzanne. "For example, our HVAC, millwrighting and electro-mechanical programs were supposed to move into the building in September but now they are going to move in next spring and be ready for students in September 2023."
However, this September the new campus will become home to several of Conestoga College's many skilled trades programs, including electrical, plumbing, machining, carpentry apprenticeship, as well as its one-year multi-trade program which allows students to sample four trades.
"The students are very excited because it will be a new and full-service campus," says Suzanne, referring to the features provided which include a library, food services, counselling services, academic supports, and student success advisors.
She says the timeline for when the rest of the campus will be developed depends on funding. The first phase has come with a price-tag of $110 million.
"A lot of factors play in to all that. But we definitely have the space to grow," says Suzanne, referring to the 42-acre site.
She notes the reaction from the business community has also been very positive and says Conestoga College welcomes any opportunity for partnerships.
"We have all kinds of opportunities to partner together. We work with organizations to make sure it is a good partnership," says Suzanne, adding financial and in-kind donations are important but there are other ways businesses can be involved. "For those not in the financial position to donate, we have program advisory committees for every one of our programs where members of industry provide us with guidance in terms of what's needed in industry from our graduates."
She says these committees meet twice a year and provide valuable input to ensure Conestoga College is offering the best programming possible.
"We're always looking for volunteers to serve on our advisory committees and work with us to ensure our graduates are industry ready."
To find out more, visit Conestoga College Skilled Trade Campus.
Drawing supplied by WalterFedy/Moriyama & Teshima Architects