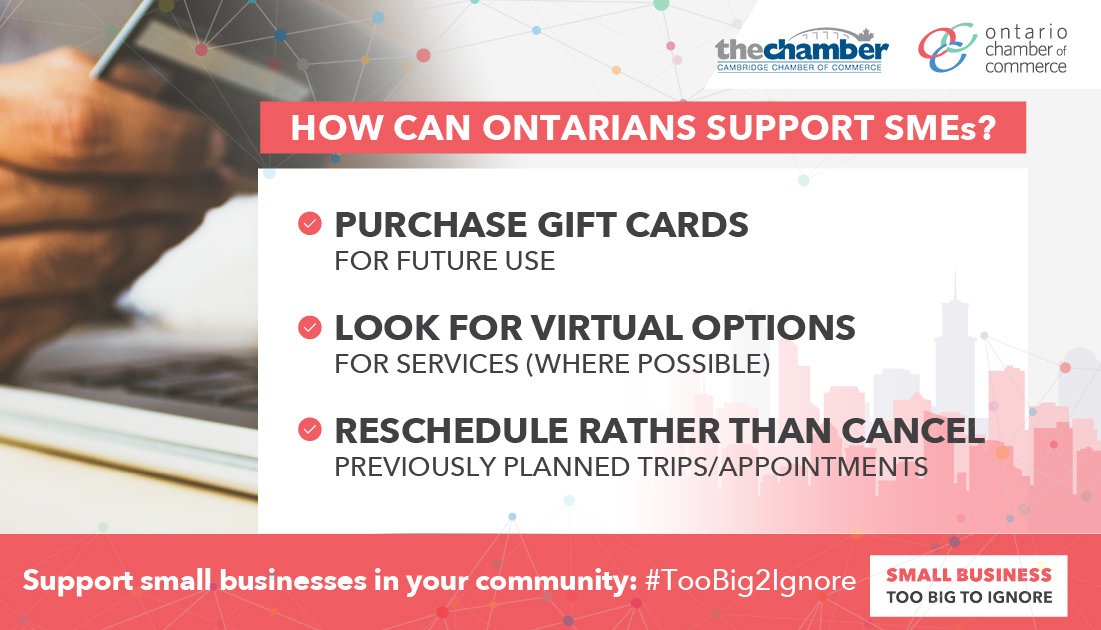 Cambridge Chamber of Commerce and Ontario Chamber of Commerce Kick-Off Campaign to put a Spotlight on Shop Local in Celebration of Small Business Week 2021.
Supporting local has never been more important and is the theme of the Ontario Chamber of Commerce's (OCC) annual 'Small Business: Too Big to Ignore' Campaign' which takes place during Small Business Week which runs October 17-23.
Throughout the week, the Cambridge Chamber of Commerce – which created the 'Too Big to Ignore' movement several years ago - and the Ontario Chamber of Commerce (OCC), along with 155+ chambers of commerce and boards of trade across the province, are encouraging Ontarians to support local businesses in their community as well as amplify ongoing advocacy and initiatives to promote and protect small businesses who have been hit hard by the COVID-19 crisis.
"I encourage everyone in Waterloo Region to do what they can to support and celebrate our small businesses by shopping and dining locally, not just during Small Business Week, but all year round," says Cambridge Chamber of Commerce CEO & President Greg Durocher. "It's very clear that small businesses are not only the heart of our communities but the backbone of our economy."
Small and medium-sized businesses contribute significantly to our national and local economies and employ nearly 90% of Canada's private sector workforce and 88% of Ontario's, according to a StatsCan survey conducted over three weeks in April of 2020 in partnership with the Canadian and Ontario Chambers of Commerce.
However, that same survey showed since the arrival of COVID-19, many of these small businesses have been impacted. In fact, results indicated that 68% saw a 10% decrease in revenue and 22% said they were unable to stay fully or partially open during the pandemic, and that more than 25% feared they couldn't stay open for more than three additional months.
This is why supporting local businesses, especially now as our economic recovery builds momentum, is imperative.
"By coming together in support of our small businesses, we can come through this time stronger and more resilient than ever," says Greg, adding the timing of the #YouGottaShopHereWR initiative is extremely timely in relation to Small Business Week.
Created in partnership with the Greater Kitchener Waterloo Chamber of Commerce thanks to a federal grant, the initiative is encouraging all local businesses – not just Chamber members - to create a short fun video that can be posted on the YouGottaShopHereWR.ca website and shared via Instagram & TikTok using the hashtag #YouGottaShopHereWR.
"Not only do we hope to raise the profile of these local businesses but show everyone why Waterloo Region is such a great community," says Greg.
In addition to encouraging people to shop and support local, the 'Small Business: Too Big to Ignore' campaign also puts a spotlight on ongoing Ontario Chamber Network advocacy and initiatives such as:
"Small businesses are cornerstones of our local economies and key to thriving communities—creating jobs, driving innovation, and generating wealth for us all," says Rocco Rossi, President and CEO, OCC.
Canadian Small Business Week takes place during the third week of October every year. This year, the celebration will occur October 17-23.