The effects of COVID-19 continue to test our economy, but the fiscal uncertainties surrounding this unprecedented crisis has not stopped many local businesses from reaching out to help others.
From local food banks, to frontline workers, to seniors and those with disabilities, the Cambridge business community has come forward to ensure those in need during this pandemic are not forgotten.
"The Cambridge community has always been exceptionally supportive of the Cambridge Self-Help Food Bank and they've stepped up for us in a way like we've never seen before," says Dianne McLeod, the food bank's interim executive director. "We've had lot of different restaurants donating products to us, whether it's milk or eggs; stuff we're not typically able to offer to everyone."
But financial donations have also been coming in to allow the food bank to purchase some much-needed supplies for the 100 or so clients it serves daily, and Dianne credits many local businesses for this valuable support.
"We have all been so affected by the COVID-19 crisis and even though as a business have had our challenges, we all want to help those who truly need help," says Christina Marshall, Director of Business Development at Gaslight Events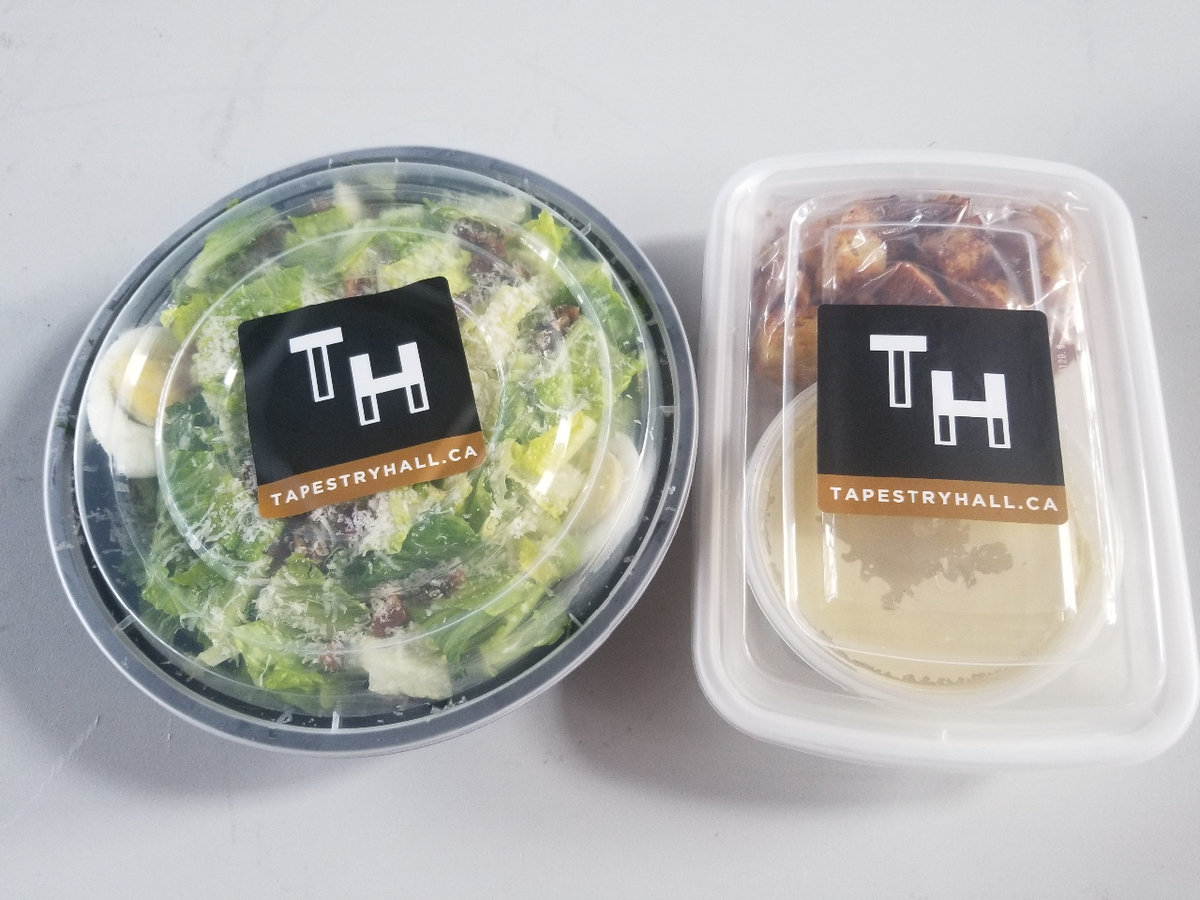 Company Inc. which operates Tapestry Hall.
Her company, through its Tapestry Hall Delivers program which offers healthy meals via delivery and curbside pickup, has been donating $1 from every order to the Cambridge Self-Help Food Bank and The Food Bank of Waterloo Region.
"We have had two very solid weeks of the food delivery services, which means two weeks of orders that are supporting the food banks in our region," says Christina.
But tasty dishes are not the only way the food bank has benefitted. Funky t-shirts emblazoned with the slogan 'Eat, Sleep, Quarantine, Repeat' have been popping up all over our community on social media thanks to a charitable partnership between MitoGraphics and Cambridge Centre Honda.
Since mid-April, the two companies have sold dozens of the shirts for $20 each, with every cent from each sale being divided equally between not only the food bank, but Trinity Community Table, Cambridge Shelter Corporation (The Bridges), and Women's Crisis Services Waterloo Region.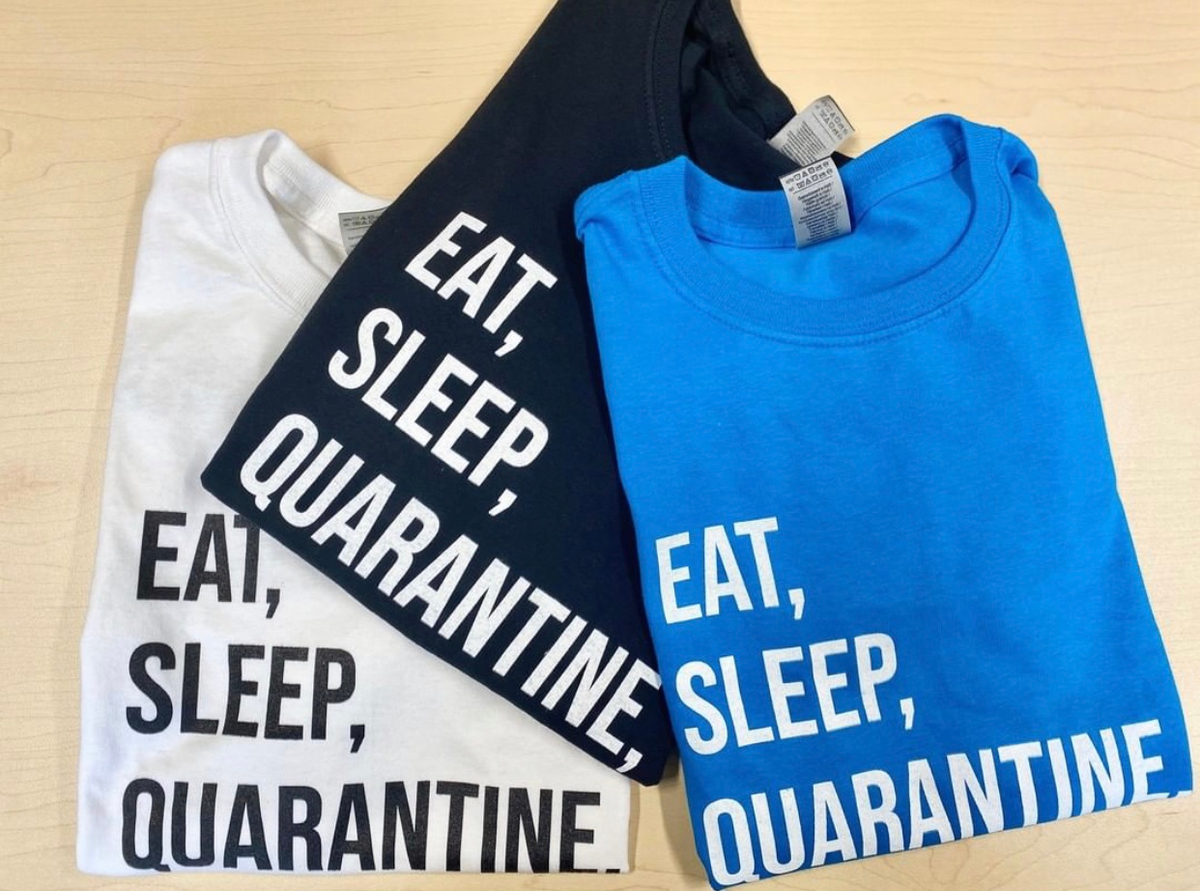 "A friend in Peterborough who owns and operates a Honda dealership was creating t-shirts and I loved the idea," says Cambridge Centre Honda's Nicole Pereira, explaining how the idea came about. "I thought if Peterborough can make this happen, so can Cambridge."
With the expert help of MitoGraphics' Kristen Danson, the women went to work creating their #QuarantineTees in several colours and through the power of social media have started a virtual movement of support.
Originally, they had hoped to sell 50 of the shirts but during a pre-launch weekend sale in mid-April wound up more than doubling their sales.
"We both love our community and think the people of Cambridge are awesome, so it's not surprising that we have received such great support," says Nicole, adding the t-shirts have now been sold as far west as Alberta and on the East Coast.
She says the four charities have been great at promoting the shirts on social media and that one local store, Once Upon a Child, has also been selling them via its online store.
"There are so many great examples of businesses giving back to our community," says Nicole.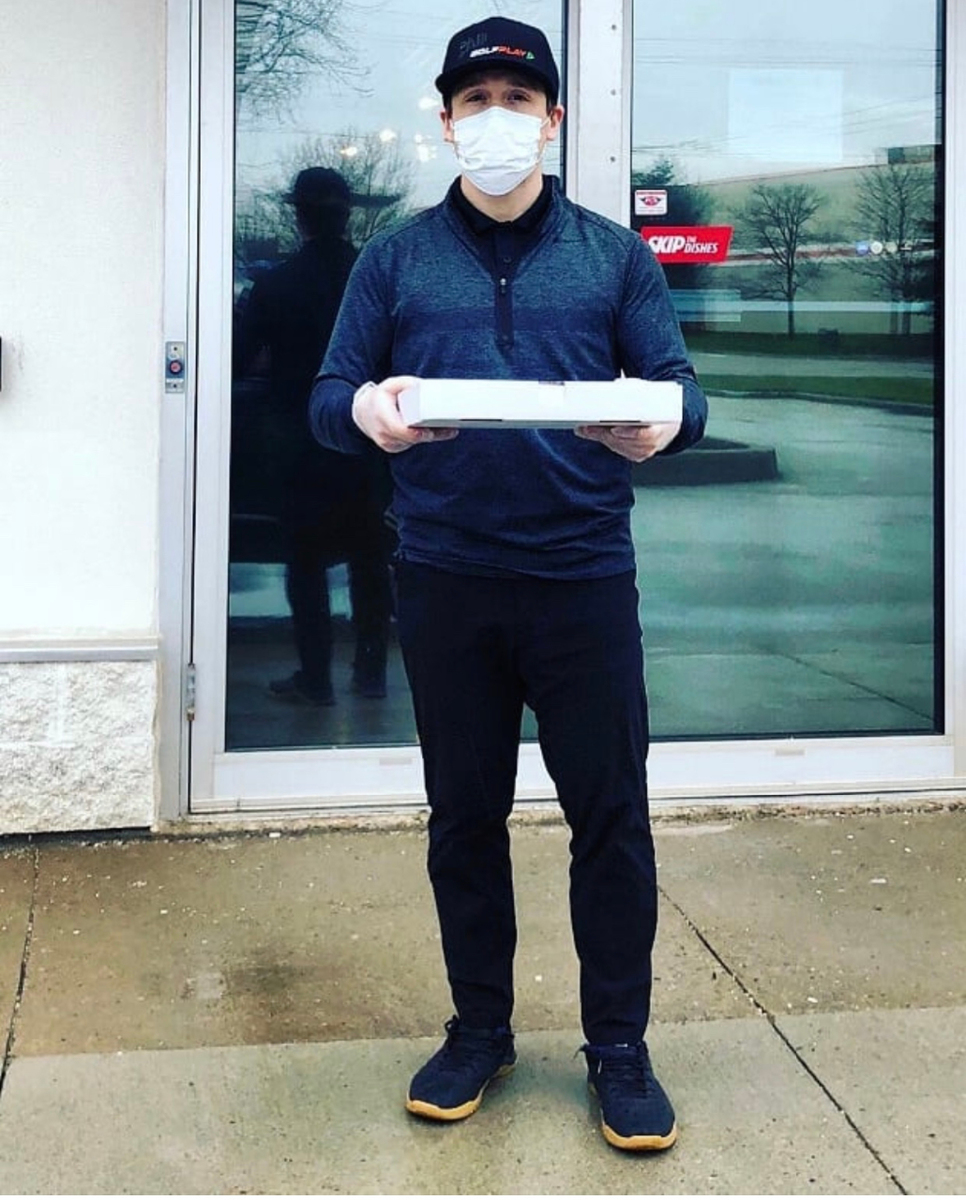 For Golfplay's President and General Manager Steve Harris, giving back seemed liked the best thing his business could do since it was required to shut its doors along with thousands of other Canadian businesses back in March.
"There are lots of needy organizations," he says, noting after sitting idle for about two weeks, Golfplay fired up its stone pizza oven in its Ironwood Bistro to try a new approach. "I thought, we've got a perfectly good pizza oven so why not sell pizzas and give some of the money to charities?"
They tried doing it one day a week and gave $10 from every pizza sold, starting with the Cambridge Memorial Hospital and The Bridges shelter. They quickly sold out and began doing it three nights a week (Thursday to Saturday), selecting different charities each week to benefit, including Grand River Hospital, St. Mary's General Hospital Foundation, Family & Children's Services Foundation, and more recently the Sunnyside Foundation.
Orders for pizzas and other menu items are taken online for fast and easy curbside pickup.
"We just kind of go around," says Steve, referring to how the charities are selected. "All of them could use help because their fundraising events have been cancelled."
He says working with charities is also a good way to foster new relationships and potential spinoffs down the road when restrictions eventually ease.
"This has sort of helped increase the awareness of what we do here. People at least get the chance to sample our food," says Steve, joking many people may not think of getting great pizza from a place called Golfplay.
"We're trying to build a business and trying to give something back in the process," he says, describing the situation as a 'win-win-win' for all involved. "The customers win because they feel good about helping others, we win because we get more exposure and the charities win because they receive some money in the process."
Support among those in the business community is crucial says Christina, especially as the recovery process begins.
"By banding together and helping each other get through this, we show our strength as a community economically and socially," she says. "If a business closes, the employees lose their income and that means other businesses do not benefit from that person's buying power."
Keeping that in mind, Tapestry Hall's Delivers and HIP Developments have formed a partnership to create the Feeding the Frontlines program. On the Tapestry Hall Delivers' website, customers have the option to contribute to the program which aims to see $5,000 in meal vouchers distributed to essential workers in Waterloo Region, including those working in healthcare, shelters, and grocery stores. On the site, the public can nominate businesses where essential workers are busy.
"They are doing the hard work in this community," says HIP Developments President Scott Higgins. "We are just trying to find ways we can say thank you and make their family lives a little easier."
Christina agrees and says these workers have gone into work each day to ensure the rest of us have the things we need.
"We wanted to do something kind to say thanks," she says. "A stress-free meal may not seem like a lot, but when you have had a long and sometimes scary week at work, one less thing, like cooking a dinner or meal planning, can help ease that stress."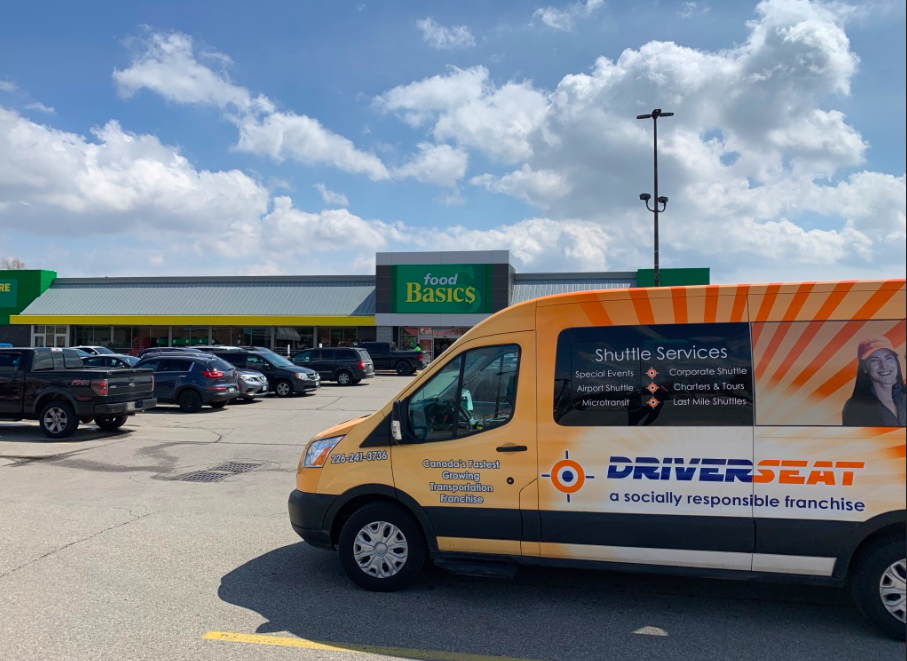 Easing stress for others is what prompted Driverseat Cambridge owner Sean Mulder to follow the lead of the company's Calgary office and offer a 'shop and drop' program free to seniors and those with disabilities. Those in need of groceries can call, or text Driverseat and will be provided with a link that allows them to fill out a grocery order.
"It's kind of cool. We're the third location to test this out," says Sean, adding having fewer people going to grocery stores means less points of contact to spread the virus. "This makes great sense."
Driverseat chauffeurs, many of whom Sean says are doing this on a volunteer basis since many only work part time for the company, do the shopping for the customer using a preauthorized payment system and then deliver the groceries following strict physical distancing guidelines. Currently, Driverseat is offering this at a few stores but expects that will increase as the program expands.
"A lot of our posts on social media have received a wide reach and from that, we're getting quite a lot of people calling and messaging us," says Sean.
He says since a huge portion of Driverseat's regular services have been scaled back considerably since the lockdown began, this has allowed the company team to stay connected. Also, Sean says it has been a boost for those in need and are isolated on their own.
"It gives people peace of mind. We're a person they can talk to," he says, adding clients can call the chauffeur if they have special requests that may not be on the grocery list, or if they forgot to add something. "They're not just punching information into an app; with us there's a voice you can talk to."
Sean admits even though businesses are facing challenging times it shouldn't prevent them from lending a hand.
"There's a huge need in our community and if you have the means or the time, you should do something," he says.
Christina agrees, especially when it comes to assisting the non-profit sector.
"If you have the chance to help those that are helping others, isn't it the right thing to do?" she says.
At the Cambridge Self-Help Food Bank, Dianne says she is thrilled by the extent of generosity from the business community which has included free security service and the creation of safe work stations for staff to work with clients at the front of the building thanks to the donation of free reno work.  As well, she says the local CAA office has deployed its vehicles to pick up food bank donations from the grocery store bins.
"No matter what people's struggles are, they're still considering us and donating to us which helps us keep going," says Dianne.
Contact Information:
For information about Tapestry Hall Delivers, visit www.tapestryhall.ca
To order a #QuarantineTee visit www.cambridgecentrehonda.com/community-fundraiser/
For information about Golfplay, visit www.golfplay.ca
Contact Driverseat Cambridge at www.driverseatinc.com, or call 226-241-3736
For information about the Cambridge Self-Help Food Bank (which now has community donation bins set up at St. John's Anglican Church in Preston and PetroKing in Hespeler), visit www.cambridgefoodbank.org