A new idea has surfaced for a Cambridge bottled water provider to help it combat the effects of COVID-19.
Mineva – Water Refined, which has provided water treatment systems in Cambridge since 2011 centred on the process of electrolysis to remove bacteria and viruses, has received its DIN (Drug Identification Number) from Health Canada to manufacture a powerful disinfectant.
This new product, which the company is calling 'Power Play', is ideal for businesses, schools, and clubs.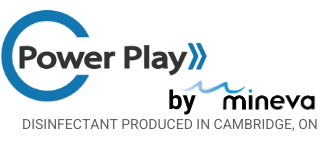 "We started doing testing and making products back in March," says Water Refined President Bryan Box, noting the idea first surfaced shortly after the lockdown. At that time, in accordance with safety protocols, his technicians were restricted from entering homes and businesses, which includes dairy farms, to install or service the firm's patented water technology. 
However, he says some employees were kept busy thanks to the company's work as operators for the wastewater plant of a local manufacturing facility.
"That kept some revenue coming in," says Bryan.
But things changed a couple of weeks into the COVID-19 crisis when he began fielding phone calls and requests from clients asking if their water systems could be 'tweaked' to create disinfectant.
"I had two home users and a dentist all within 10 hours call and ask if they could take their electrolysis system and add salt to it and make disinfectant," says Bryan, explaining this formula leads to the creation of hypochlorous acid, a very safe substance that white blood cells manufacture to fight infections.
"It's a very powerful disinfectant but very safe," he says.
These requests, including one from a competitor asking if they could use the company's water bottling line in St. Catharines, prompted Bryan and his team to begin looking into Health Canada regulations to see  how they could pivot their operation to start manufacturing disinfectant.
"We joked that we started going down the rabbit hole," he says.
As they investigated this possibility, his company also began sourcing another disinfectant called 'Neutralyze' from a B.C. company that does similar work to get the ball rolling locally.
Bryan says they enlisted the help of a consultant to help navigate the Health Canada system, which can be daunting, to obtain a DIN.
"You don't know if it's going to take two months, four months or even eight months," he says.
The proper approvals were obtained, and Bryan says his new product has already been used at the Cambridge Sports Park, The Zone Training in Waterloo and Guelph, Cambridge Kips Gymnastics Club, several dance studios and dental offices.
As a father with children who are active in the local sports community, he says having a locally produced product will make it less costly for many organizations.
"The prices out there are just astronomical," says Bryan, referring to the cost of other products available on the market.
He says his company has also been in contact with local school boards letting them know about these products as schools prepare to welcome students back.
"There might be a mad dash when schools realize there's not a lot of supply around and everybody's scrambling," says Bryan, adding his company is also toying with the idea of providing the necessary prepackaged ingredients to let customers use their own water systems to create the disinfectant. It's a plan that would also require Health Canada approval.
"But that could be another 12 to 18 months do this," he says, adding he has learned a great deal over the past few months.
"It certainly has been an interesting process," says Bryan.
For information about these new products, please visit www.mineva.com