Creating an economic environment to ensure businesses can succeed was the key part of the agenda at the Ontario Chamber of Commerce's 2023 Annual General Meeting and Convention in Niagara Falls.
In attendance at the recent event, hosted by the South Niagara Chambers of Commerce and Greater Niagara Chamber of Commerce, were 160 delegates representing nearly 80 Chambers provincewide, including Cambridge Chamber of Commerce President and CEO Greg Durocher, and Board Chair Kristen Danson.
"The OCC's AGM is an important avenue to share new ideas and connect with other Chamber leaders to find ways to ensure businesses have the legislative support they need to succeed," he said. "The policies the Chamber network approves create a roadmap when it comes to making important legislative changes."
In total, 43 policies were approved by the delegates covering a wide variety of issues that can directly affect businesses including labour, energy, education, healthcare, transportation and transit.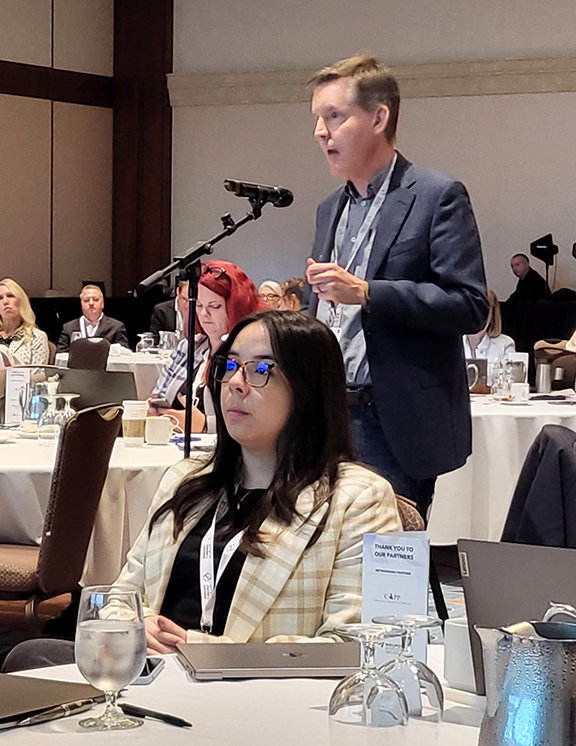 The theme for this year's AGM was Growing Together, which exemplifies the Chamber network's focus on driving economic growth in the province. 
This year's event featured a range of keynote speakers, panel discussions, and breakout sessions on topics that are critical to the success of Ontario's businesses.
Attendees had the opportunity to hear from experts in areas such as innovation, trade, workforce development, and government relations.
Fireside chats were held featuring a variety of provincial political leaders, including Ontario's Minister of Red Tape Reduction Parm Gill, who talked about the importance of creating a path for businesses to succeed. 
"I think we can all agree that for the province to be competitive we've got to make sure we are creating a business environment for businesses to come and make investments, and create well-paying jobs," he told the delegates. "That's what we (PC Party of Ontario) have been doing for the last five years. We've made tremendous progress."
However, there is more room for improvement according to Ontario NDP Finance & Treasury Board Critic Catherine Fife. The Waterloo MPP, along with Ontario Green Party Leader Mike Schreiner, were among those who discussed a variety of issues that needed to be addressed such as housing and healthcare.
"When you have a strong healthcare system that can actually draw people into the province, that social infrastructure investment is seen as a plus by companies that are thinking of coming into Ontario," she said. "And it also serves employees well and is certainly worth fighting for."
Her concerns about Ontario's healthcare system were reiterated by Ontario Liberal Party Interim Leader John Fraser, who talked about the importance of creating a stronger workforce.
"We do not have enough people to care for the people who need it," he said. "We need a skilled workforce, but enough training is not always that accessible to all people."
The Hon. Perrin Beatty, Canadian Chamber of Commerce President, also identified the need to boost our innovation capacity for Canada to compete internationally.
"We've been calling on the government to focus on the fundamentals of growth. We need to build a 21st Century workforce," he said. "It's time for governments at all levels to treat business as partners not a problem."
Cambridge Chamber policies approved by Ontario delegates
The AGM is a pivotal event for Ontario's business community, providing an opportunity for industry leaders to come together to discuss and debate key policies that shape the Ontario Chamber of Commerce's (OCC) advocacy agenda for the coming year.
The Cambridge Chamber presented three policies, all of which received overwhelming support from delegates:
The first policy is aimed at opening Ontario's job market for employers and employees and urged the Government of Ontario to develop all potential partnerships within local municipalities and community organizations to ensure that language training is made available to new immigrants to help expediate entrance into the workforce. Also, the policy called on the Province to provide an opportunity for those on ODSP (Ontario Disability Support Program) who want to work to do so without risk of losing their provincially funded benefits if their employer does not provide those services. And finally, the policy recommended providing employers with a form of renumeration (i.e., tax credit) when it comes to providing provincially regulated training, such as WHMIS and their associate costs.
The second policy was 'reaffirmed' by the Chamber network after first being introduced in 2019 calling for more to be done by the Province to encourage more women and girls to consider a career in the skilled trades. 
The Chamber also presented and co-sponsored a policy with the Greater Kitchener-Waterloo Chamber of Commerce to attract and retain highly skilled talent by urging the Province to double the size of the Ontario Immigrant Nominee Program and to work with post-secondary institutions to reduce regulatory barriers hindering the construction of new on and off-campus housing. As well, it urged the Province to match investments in post-secondary infrastructure and increase funding for Facilities Renewal Program-elgible projects.