Tired of staring at the same four walls?
The reality of COVID-19 has clearly altered travel plans for millions of people this summer and for the months to come, but the desire to get away from our day-to-day lives remains strong.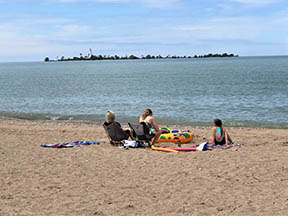 "I think there is a pent-up need for people who want to travel," says Judy Silva-Foye, Branch Manager of Vision Travel Solutions.
With more than 30 years experience in the business, Judy has seen it all but says the COVID-19 crisis is something she has never faced before, even taking into account such other health emergencies like SARS, H1N1 and Swine Flu.
"We survived 9/11 and thought at that time there wasn't anything that would look quite as a bad," she says, noting the shutdown happened in early March marked the first time in 35 years she was forced to lock her office doors. "It felt so surreal."
For Darlene Whipp, office manager at Donaldson Travel, reopening her office to the public in June – by appointment only – was a big step to returning to some sense of normalcy, even though several desks were removed to create safe physical distancing, plexiglass partitions installed and hours of operation shortened. 
"We've been dealing with a lot of cancellations and rebookings," she says. "But we are getting a lot more people coming in wanting to travel."
Winter holidays to the Caribbean, which has seen many destinations reopen thanks through various health and safety protocols, have sparked the interest of many travellers looking to get away.
"A co-worker of mine just issued tickets for 12 people to travel to the Dominican Republic in January," says Darlene, adding her office has been keeping close tabs on what is taking place in the Caribbean. "We've constantly been taking webinars with the resorts as they go over all their new protocols and what they've been doing to make things safe for clients."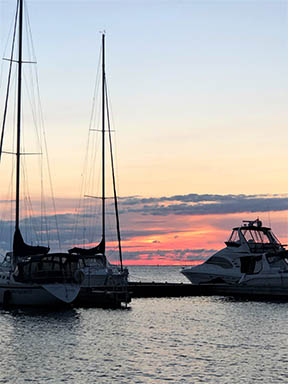 Donaldson Travel President Mark Crone says the airlines have also stepped up with many new protocols and recalls a very positive experience he had on a promotional flight in mid-July to Montreal sponsored by Air Canada to showcase their company's changes to travel industry experts.
"I think it's really reassuring that planes are really being properly cleaned," he says, adding that loosening restrictions around the 14-day quarantine period in Ontario would be in a major boost and confidence is coming back as more offices reopen. "A few months ago, we were all self-isolating but now I think we just want our freedom. But the big thing is what's happening in the U.S. and if they could get more control of it (COVID-19) I think that would help the mindset here all that much more."
Keeping that in mind, Judy says travel destinations in Canada has been a wonderful option for those itching to get away, which could include renting an RV.
"We're suggesting to people that now is the time to see your own country," she says, noting there are many options just within Ontario to provide people a great holiday, such as a wine tour. "I think this opened our eyes that we have to look into our own backyard this year and seeing what we have closer to home."
But for those looking at travelling – for both holiday and personal reasons - to other provinces, or other countries that are allowing Canadian visitors, travel experts say that research is necessary to ensure what guidelines are in place.
"We have become quite the experts on where to find information," says Judy. "Because it's not just about the country you're leaving from but the country you're going to."
Mark agrees and says the amount of information surrounding travel is overwhelming as the COVID-19 crisis continues.
"It's all very fluid, and changes," he says. "We're getting creamed with information every day. You have to be on top of it for sure."
That's why Mark says turning to a travel expert for assistance is very good idea.
"For the life of me, I don't understand why anyone would try to book a trip online if they don't absolutely understand what's going on right now," he says. "There's certainly a short list of places you can go."
Judy says she is confident the travel industry will survive.
"Travel will come back because there is always going to be a desire for travel," she says. "But will it come back the same? No. It will never be what it was before, just different."
She says the impact of COVID-19 has created a domino effect and has resulted in a global connection towards trying to bring the virus under control.
"We don't all have to have share the same beliefs, but we should all try to end up at the same place," says Judy.