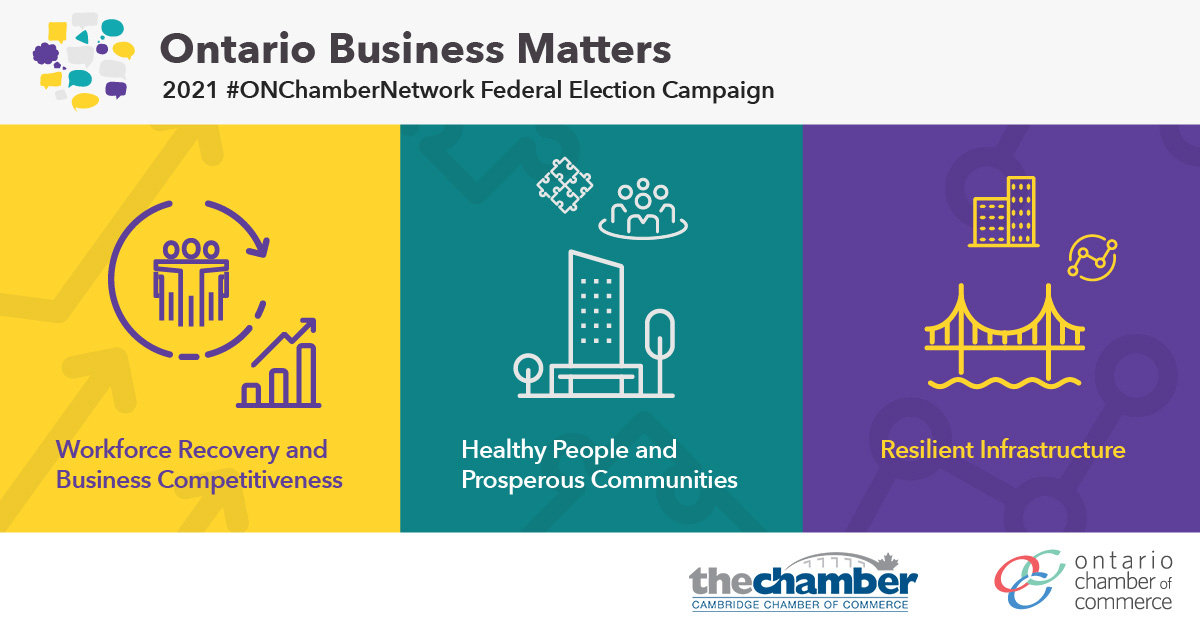 Cambridge Chamber of Commerce and Ontario Chamber of Commerce Launch
'Ontario Business Matters' Federal Election Campaign
The Ontario Chamber of Commerce (OCC) and the Ontario Chamber Network are mobilizing throughout this federal election to bring recommendations through their Ontario Business    Matters campaign to political leaders and candidates.
The Cambridge Chamber of Commerce and OCC in conjunction with other local chambers and boards of trade in more than 155 communities will be sharing pressing policy issues related to Ontario business that need to be front and centre in the federal election.
As the economy continues to reopen and recover, adopting pragmatic solutions to support Ontario business competitiveness will be a critical driver of Canada's economic recovery.
"Ontario is Canada's economic engine, responsible for almost 40% of the national GDP and $390 billion in bilateral trade with the United States. No other province can compare to Ontario in population, size, border crossings, and trade," said Cambridge Chamber of Commerce President & CEO Greg Durocher.  "Over the past 17 months, communities and businesses across the province have been adversely affected by the crisis. Without question, the pandemic has underscored why Ontario business matters."
When businesses and communities across Ontario prosper, Canada prospers:
Ontario is home to almost 50% of all employees in high tech, financial services, and other knowledge-intensive industries.
Roughly 40% of Canada's small businesses are concentrated in Ontario.
Ontario is the number one trading partner with 19 US states and the second largest trading
partner with nine others.
"Local chambers and boards of trade across the province have been advocating tirelessly for their local businesses and communities since the onset of the pandemic," added Rocco Rossi, President and CEO of the OCC. "With businesses, organizations, associations, unions, and post-secondary institutions feeling the impacts of the pandemic, Canada's next government must be committed to taking bold action in advancing pro-growth policy solutions."
Ontario Business Matters provides unique recommendations that will help bolster Ontario's long-term economic future, while also addressing the impact of the pandemic and pressing issues the province currently faces through three pillars:
         1. Workforce Recovery and Business Competitiveness. As we emerge from the COVID- 19 crisis, Ontario businesses need strategic support from the federal government to strengthen the key enablers of competitiveness, including access to interprovincial and global trade, capital and talent.
         2. Healthy People and Prosperous Communities. COVID-19 has exposed and amplified challenges for those who call Ontario home. To ensure an inclusive post-pandemic recovery in our province, Canada needs to invest in community well-being through reconciliation with Indigenous peoples, child-care, and health care.
         3. Resilient Infrastructure. Infrastructure connects Ontarians to jobs, education, goods, services, and the people they love. The federal government should be a critical partner in building modern, low-carbon infrastructure to drive our economic recovery.
For more information about the and Ontario Chamber of Commerce's Ontario Business Matters campaign, please visit https://bit.ly/3kfnoJ3