As travel levels continue to ramp up towards even higher volumes than they were before the world shutdown due to COVID-19, the Region of Waterloo International Airport is ready to handle any surge.
"We're probably in the top-10 of busiest airports in the country as far as movements but we're also in the top-20 when it comes the number of passengers," says Chris Wood, General Manager of the Region of Waterloo International Airport, noting he expects the airport will soon see that passenger ranking move up to the 12th to 13th busiest spot.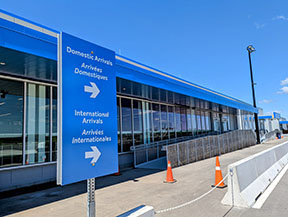 Chris says the airport is expected to welcome at least 500,000 passengers in 2022, which is slightly less than its initial projection due in big part to the arrival of the Omicron variant but expects to see that number double next year.
"We should be able to hit those numbers, with everything being equal," he says, adding the opening of its new 12,000 square-foot domestic arrivals building in April – part of its $35 million Airport Terminal Expansion Project – is a continued sign of the airport's importance to the economic vitality of the Region.
"Every thriving community has a big, bustling airport. Why should we be any different?" says Chris. "You can't go to a world-class city anywhere without an airport being part of that."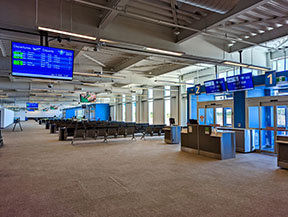 Currently, WestJet and Flair Airlines are providing a bevy of flights from the airport to a variety of destinations including Calgary and Edmonton, AB, Cancun, Mexico, Winnipeg, MB, and Vancouver and Victoria, B.C. In fact, this summer Flair has unveiled several additional destinations including Charlottetown, P.E.I., Deer Lake, N.L. and Montreal, QC, starting in July.
"We do expect Sunwing to return in the winter," says Chris. "We also have an agreement with Pivot Airlines and expect them to arrive later this fall, but we don't have a firm date yet."
He says Pivot will offer several flights daily to Ottawa and Montreal, providing a key component in building the airport's business clientele.
"We've kind of morphed into a low-cost carrier dream airport because we have a very large and affluent population that has been starved of non-stop service for many years, and we also have a very affluent business community," says Chris. "But we haven't really catered as much to the business community."
He's very candid when it comes to the struggles the airport has had trying to attract more business flyers, noting that smaller business owners and entrepreneurs are more cognizant of their finances so utilizing a low-cost carrier makes sense to them.
"But if you're not paying for your own ticket, it's more difficult to get people to use the services that are currently here," says Chris, adding frequent flights a day out of Pearson Airport offered by larger carriers like Air Canada are more convenient for many business travellers.
Currently, he says at least 80% of travel at the Region of Waterloo International Airport is leisured based adding the split between business and leisure travel was about 50/50 when American Airlines offered nonstop flights to Chicago from 2011 to 2016.
"We saw a lot of people going to Chicago and beyond for business. But if the right type of service comes in, I think the business community would definitely use it," says Chris, adding Pivot Airlines will be a great draw and caters to the business community thanks to its multiple flights daily to various business locations.
When it comes to attracting airlines, he says the process is extremely difficult since airlines must be very strategic where they place their inventory.
"The airlines get it. They know there is an opportunity here, but they also know there is more of an opportunity at Pearson," says Chris, adding carriers like Flair that are destination-based and not interested in connections or using a hub and spoke model, can be easier to attract.
"But we're happy to talk to any airline about service and we've got the facility now that can handle them," he says, crediting Waterloo Regional Council for its continued support. "We can ultimately contribute to the bottom line of the Region."
Chris says the 'gold standard' for a regionally operated airport in Canada are Kelowna and Abbotsford, B.C., and that Regional of Waterloo International Airport is quickly approaching those levels.
"It's a model we hope to achieve and we're getting closer," he says.
To learn more, visit Region of Waterloo International Airport.