Business Award Winners Announced
The exemplary work of the local business community was recognized Thursday night (March 21) at the Cambridge Chamber of Commerce's 2018 Business Excellence Awards.
Hundreds of business leaders and their guests packed the Armenian Community Centre of Cambridge for the awards which is the Chamber's premier event and has honoured the contributions and achievements of business leaders since 2000.
"The awards are our way of recognizing how much our business leaders do for this region," said Cambridge Chamber of Commerce President & CEO Greg Durocher. "The calibre of our business community talent is something we should all be very proud of and celebrate."
Our adjudicating committee painstakingly reviewed and graded a number of nominations to select the winners in 11 award categories.
"It was not an easy decision for our Judges to pick just 11," said Durocher, noting there were many worthy businesses and individuals among the nominees.
The winners were selected to recognize the achievements of organizations and entrepreneurs who have made outstanding contributions in the past year
Business Confidence Improves But More Remains
To Be Done: 2019 Ontario Economic Outlook
On February 19, the Ontario Chamber of Commerce (OCC) and the Ontario Chamber Network released their third annual Ontario Economic Report (OER), offering a unique perspective on the experience of businesses of all sizes across the province.
New research shows that businesses are gaining confidence in Ontario's economic outlook as well as gaining confidence in themselves. At the same time, challenges relating to access to talent, embracing technological innovations, and the cost of doing business—including regulation, taxation, and input prices—remain major sources of concern. Ontario's overall prosperity depends on the strength of its regional economies, yet these vulnerabilities are expected to be most acutely felt in rural regions of the province. We need to take action and address these challenges to build a stronger Ontario for today and tomorrow.
#ShopCambridge. Shop Local
Customer Service has always been recognized as the key to business success and is now the most talked about issue in boardrooms across the country. As we all know, the role of those responsible for delivery and management of Customer Service is vital. Tell us who has gone above and beyond for you. Nominate someone today.
Young Innovative Professionals
The Young Innovative Professionals (YIPs) helps connect the Cambridge business community through social, service and professional development opportunities. Whether you just moved to Cambridge or you have lived here all your life – we invite you to join the Young Innovative Professionals (YIPs). This group of dedicated and energetic young professionals love this city, its people and strive to make it a better place for all of us to live, work and play. www.yipme.ca
Small Business, Too Big To Ignore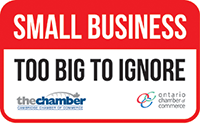 The Cambridge Chamber of Commerce in partnership with the Ontario Chamber of Commerce (OCC) and the Ontario Chamber Network is proud to be a part of the ambitious campaign, Small Business: Too Big To Ignore.
This campaign highlights the important contributions of small businesses to our economy and communities, and seeks to actively engage small businesses across the province in investigating the top barriers to small business growth - and identify solutions to overcome those challenges. To kick off this campaign the OCC has released the report, Top 3 Obstacles to Small Business Success.
The Cambridge Chamber of Commerce looks forward to leading discussions in our community about the underlying challenges that are weighing on small businesses and stifling job creation.
A strong and vibrant small business sector is important for all business. Small businesses are the wealth creators, job creators and risk takers. Small businesses have important relationships with big businesses as part of the economic ecosystem. Big businesses are often highly dependent on small businesses as suppliers, distributors, customers, innovators, and for developing a skilled and experienced workforce to draw from. Small businesses also make up the vast majority of our local membership, our volunteers, and are often the people actively involved in community service.
We want to hear from you. Please engage with us on the Small Business Too Big To Ignore campaign on Facebook and Twitter, share your input, and help spread the message about the importance of small business and why it cannot be ignored.
Chamber Perks Program
As a member of the Cambridge Chamber of Commerce, you have access to a host of Perks that come with membership. Through partnerships with Chamber members, we've established discounts to help you in your business. Whether it's driving more customers through your door or helping you lower some overhead costs, all of our programs are designed to help you succeed. View our Chamber Perks.
Our Cambridge.... A Gift to the World
 

Our Cambridge ... A Gift to the World showcases Galt, Preston and Hespeler with their rivers, incredible historic architecture and hi-tech companies. This has made for a wonderful project...a collection of images and a gift book that corporations, residents and visitors will simply love.

 

The Book is a hard cover, jacketed coffee table book, great for your home, office or as a gift to visiting customers and suppliers.  Click here to purchase your copy.