Report outlines solutions to tackle the backlog in healthcare and ensure all Ontarians have access to timely and appropriate care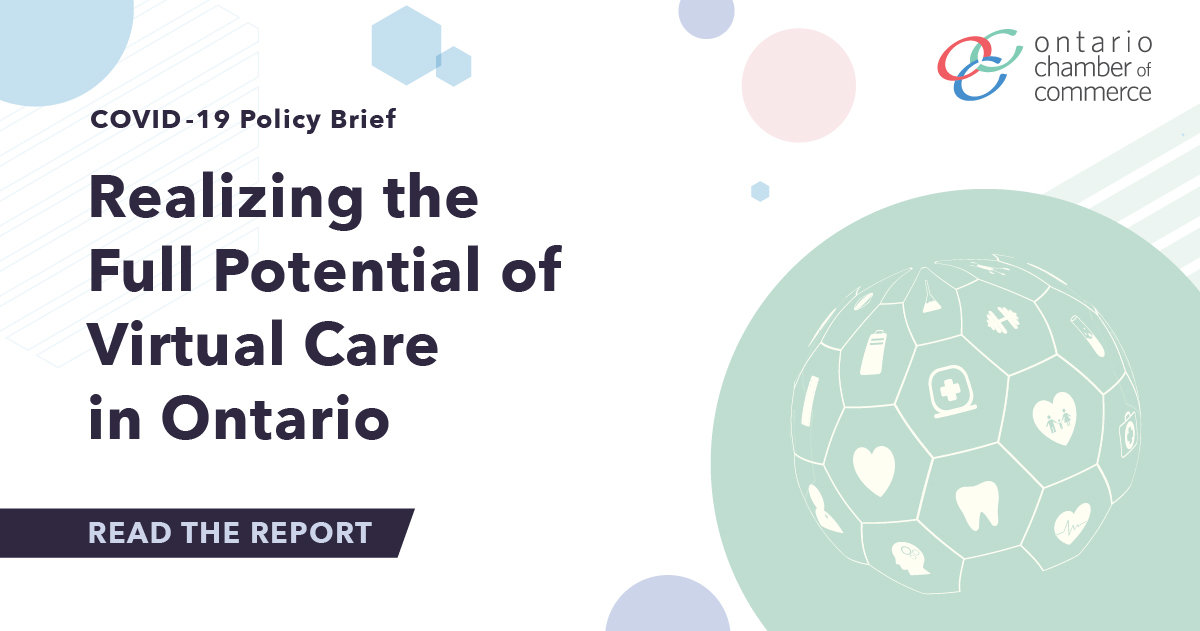 A recent report from Ontario's Auditor General has put the spotlight on virtual care.
 And although telemedicine sites have been in place for decades in Canada, the COVID-19 crisis has accelerated the adoption of virtual care in Ontario.
"In primary care, upwards of 80% of visits were conducted by phone or via video virtual platforms in the first wave," says Dr. Sharon Bal, Primary Care Physician Lead for the Cambridge-North Dumfries Ontario Health Team.
Dr. Bal, who also took on the role of tri-chairship for the Health Sector Control Group which has been co-ordinating a five-hospital response to pandemic, has seen firsthand how virtual care has assisted patients throughout the crisis.
"In long-term care and retirement homes, virtual visit pilots allowed physicians to liaise with staff more easily. And in area hospitals, tablets facilitated 'visits' with family members and caregivers, and were essentially to ensure compassion and humanity in the face of COVID-related restrictions."
Virtual visits have enabled more and more Ontarians to continue accessing quality health care while not exposing themselves to the virus. The latest report by the Ontario Chamber of Commerce (OCC) network, which includes the Cambridge Chamber of Commerce, Realizing the Full Potential of Virtual Care in Ontario, underscores the need to permanently integrate virtual care into Ontario's health-care system.
The Chamber network believes permanent integration of virtual care – which saw temporary measures used during the SARs crisis - into the health system will ensure all Ontarians can access timely and appropriate care, plus alleviate some of the pressure facing the system, such as reducing unnecessary visits to the ER.
According to Canada Health Infoway's September 2020 survey, 60% of health care visits with primary care physicians and specialists were conducted virtually at the onset of the pandemic.
The report notes that given the uptick in virtual care usage, the resurgence of the pandemic in a second wave, and an uncertain timeline for a vaccine, a more permanent and comprehensive solution is needed.
"Long before COVID-19, Ontario's health-care system faced numerous pressures and growing costs. By empowering patients to manage their health while at home, virtual care has the potential to reduce the strain on primary care providers and hospitals, lessen the backlog in care, and protect frontline workers from exposure to the virus," says Cambridge Chamber of Commerce President & CEO Greg Durocher. "We are calling on the Government of Ontario to consider urgent policy reforms such as modifying the existing fee code system to allow for the permanent and effective delivery of virtual care in Ontario."
The report explains that, while the implementation of temporary billing codes in March 2020 allowed physicians to conduct virtual visits, these temporary codes were a stop-gap measure and have limitations.
The report provides the Government of Ontario with four recommendations to ensure virtual care is not only permanently integrated in our health-care system, but is more equitable, accessible, and widely adopted:
Develop a comprehensive framework for virtual care in Ontario.
Modify the existing fee code system to allow for the permanent delivery of virtual care, and provide physicians with training and knowledge supports to allow care to be delivered virtually.
Focus on equity to improve access to virtual care, including ensuring all Ontarians have internet access so that the expansion of virtual care options does not exacerbate inequities for patients in rural, remote, northern, and Indigenous communities.
Support employers' continued investment in virtual care for their employees that expand beyond care delivered virtually though the health system.
These recommendations were developed with the OCC's Health Policy Council, a group of expert practitioners and industry representatives.
The report explains how virtual care is not solely about convenience for patients, but it also benefits the health-care system as a whole. Further, virtual care should be viewed as one modality in which health care can be delivered, and should continue to complement, not replace, in-person care.

"Primary care recognizes that a 'new normal' with options that include both virtual and in-person visits will be ideal," says Dr. Bal, noting innovations like these need to become a permanent part of health care delivery in Ontario with the correct supports.  "Technology as a barrier will need address and future focus should be integrated solutions across the community and acute sector, as well as ensuring health quality."
For more on the virtual care report, visit: https://bit.ly/3oJtIcw