Nothing represents summer more than a barbecue.
The smell of food cooking on the grill and the sounds of the outdoors are a feast for the senses, especially on a warm and sunny afternoon.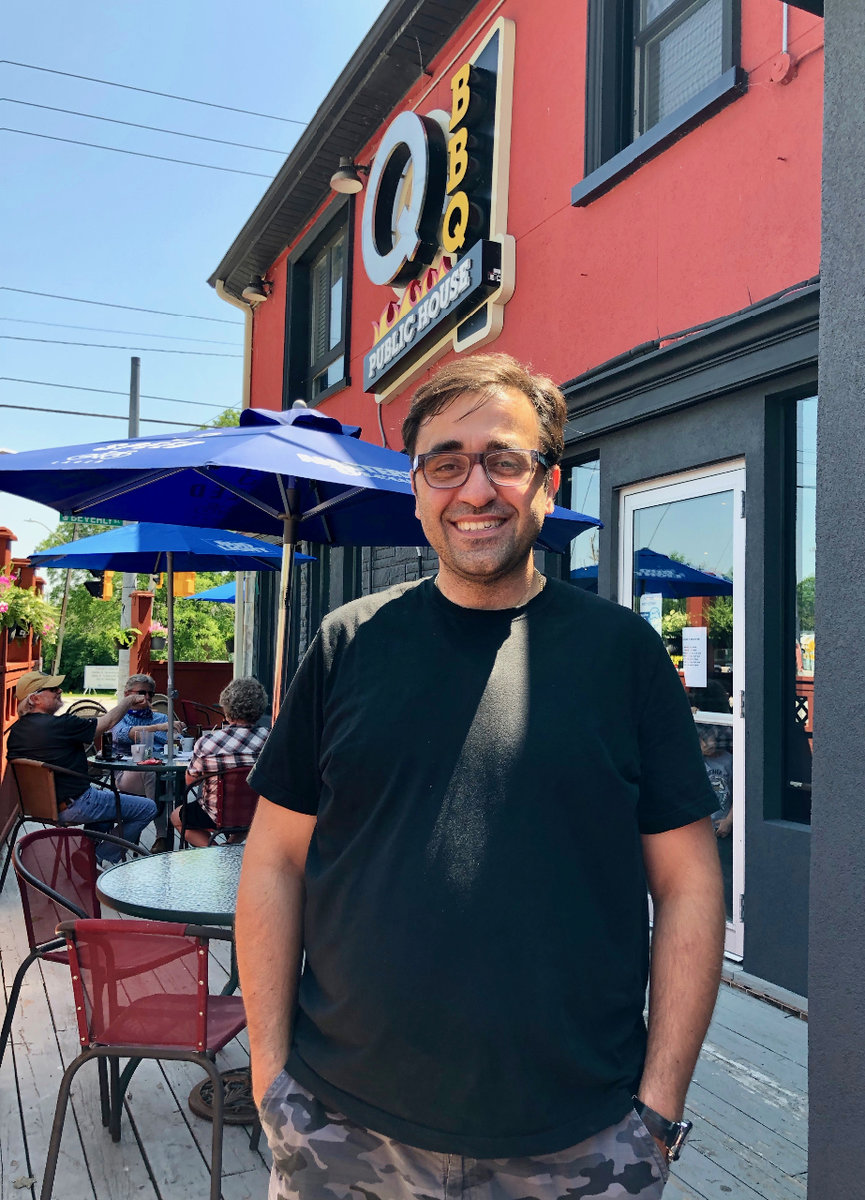 But for many, good food is not the only reason barbecues are so popular.
"A barbecue is a meal that everyone can enjoy," says Steve Varnasidis, General Manager of Q BBQ Public House in Cambridge, who has spent 25 years cooking on just about every surface possible. "It brings people together."
James Empringham, Chef De Cuisine at Cambridge Hotel & Conference Centre, agrees.
"I think for myself and a lot of other people, the biggest attraction to BBQ, like any other food, is the social interaction," he says, adding 'breaking bread' or this case beef, pork, seafood or chicken, is important. "It's that aspect of standing around a BBQ, smelling that delicious food while in the company of friends and family on a hot summer day."
The Farm Boy Product Development Chefs (Maria Garza, Liam Fulcher and John Cadieux) also agree and say not 'heating up' the kitchen is another big attraction to heading outdoors.
"It's an easy clean up and the ability to cook many different foods at the same time," says Farm Boy's Maria Garza.
However, when it comes to barbecuing, there can be so many questions  surrounding not only what to put on the grill, but how to cook it?
So, we asked these local barbecue experts a few questions to help you host the best barbecue possible this summer:
1. Does the heat source matter?
* According to the Farm Boy chefs, the answer is yes since – gas vs charcoal vs wood – all give a slightly different taste profile. "For the novice, gas would be the easiest and most convenient way to grill, whereas charcoal or wood require a bit more know-how so you can regulate temperatures correctly," says Liam Fulcher.
* For Todd Diamond, Director of Food & Beverages at Bingemans, using the proper heat source is imperative. "Ultimately, there are a number of different ways to approach a BBQ and a variety of different preparations for the meal," he says. "The important part is matching them together to produce the best results."
* When it comes to producing the best results, Steve at Q BBQ Public House says wood is a great heat source. "I like to mix fruit wood, like apple or cherry, and then mix it with maple or oak which are more readily available around here."
* James and his colleague Nick Ruthardt from Cambridge Hotel & Conference Centre say flavour is everything and the right heat source can help. "Charcoal briquettes are one of the most popular heat sources and they can provide a wonderful grilled flavour. Then as you get more into BBQ and adventurous, you can start to also play around with smoking with woodchips and the different flavours they can add to the cooking process."
2. What is the best thing to cook on a barbecue?
* Pork is great thing to cook on the barbecue according to Todd at Bingemans. "But I really believe the very best thing to cook is whatever you are working with on any given day," he says. "It's about the amazing variety of incredible meals that you can prepare, just don't be afraid to try something new."
* James and Nick Ruthardt also believe the possibilities are endless, including various meats, seafood, and all sorts of vegetables. "Once you dive down into it, there really isn't much you can't do on a BBQ or with a smoker," says James. "Yes, some of these things take a little bit more practice than others to really get them down to perfection, but BBQ really does have a little bit of something for everyone."
* Farm Boy Flattened chicken receives top marks from both the Farm Boy chefs and cooks up fast and crispy, while remaining moist.
* Steve at Q BBQ Public House also agrees that flattened chicken is great, providing it's well marinated and basted on the grill.
3. What can be the most difficult thing to cook on a barbecue?
* For the Farm Boy chefs, they say fish and seafood can be a difficult because it can stick to the grates and can easily be overcooked. "Same applies to seafood, because it cooks so fast, you have to be careful not to overcook," says John Cadieux.
* For Steve at Q BBQ Public House, he says cooking the perfect steak can often prove difficult. "If you're not an expert barbecue or griller, it can be really challenging," he says.
* For James and Nick, they insist brisket is the hardest thing on a BBQ to get done properly. "It's hard cut of meat to get tender because it's a very fatty piece of meat and takes a very long time for the collagens to break down so that it is super tender," says James. "When cooking brisket, it is definitely a long game and can't be rushed."
* Todd at Bingeman  jokes that dessert is the toughest thing to barbecue.
4. What is the easiest thing a novice can cook on the barbecue?
* When it comes to simplicity, Steve at Q BBQ Public House says a really tasty homemade burger is a great thing for a novice to try. "Grill up some portobello mushrooms and put them on top, or some bacon or pineapple," he suggests. "It's delicious and everybody appreciates a good homemade burger."
* The Farm Boy chefs agree and say the Farm Boy gourmet burgers are quick and easy. As well, they recommend the Farm Boy mesquite chicken wings and all beef frankfurters.
* James and Nick recommend trying some pulled pork, if a nice bone in pork shoulder slice of meat can be used. "The key to pulled pork is low and slow. One the pork shoulder is on the BBQ, all that has to be done is wait," says James. "Fun fact, when people refer to a 'pork butt', they are actually referring to the widest part of the shoulder."
* When it comes to something simple, Bingemans' Todd Diamond also says pork chops are easy to whip up.
5. What are the most common mistakes you can make barbecuing?
* The Farm Boy chefs say not planning ahead is a big problem and that lighting the charcoal or wood far too late doesn't allow the barbecue to property heat up. As well, not cleaning and greasing the grates is another mistake.
* James and Nick agree. "Starting with a grill that isn't up to temperature will result in either burned food, undercooked food or food that just won't come unstuck from the grill," says James. "Another mistake I see often is people opening the lid way too much. It's important to keep the lid shut."
* Using a fatty slice of meat is another mistake says Steve at Q BBQ Public House, when it comes to barbecuing. He says fatty meat can lead to a great deal of smoke and flame ups.
* For Todd at Bingemans, he says using lighter fluid is a big no-no and must be avoided.  "Don't use too much heat," he says.
A few tips from the experts:
Don't use too much heat
Be creative with veggies
Know your equipment inside and out
Don't move the food around
'Rest' all the meat
Cook food in order of how long things take to cook
Don't forget the wine/beer