Life must find a way to continue, even during a pandemic.
For those hoping to get married, or sadly for those faced with the loss of a loved one, having to navigate these important life-changing events in this COVID-19 world may appear exceptionally more difficult.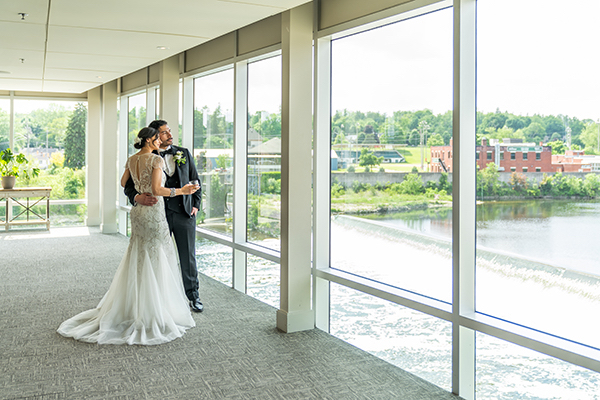 "I really feel like the rug has been pulled out from under all our couple's feet because they've been planning this beautiful day for so long," says Vanessa Davis, Executive Special Events Consultant for Pearle Hospitality, referring to those faced with altering wedding plans at the company's many well-known properties which includes the Cambridge Mill and Whistle Bear Golf Club. "The part that I've been hearing that is the hardest for people has been the not knowing."
She estimates COVID-19 has affected at least 500 weddings planned at Pearle Hospitality properties.
"In March and April, we were under mandated closures so there really were no options," says Vanessa, adding that changed a few weeks ago.  
As of June 13, indoor wedding and funeral venues were allowed to operate at a maximum of 30% capacity, with outdoor ceremonies limited to 50 attendees. Receptions remain limited to the 10-person restriction. 
And for both indoor and outdoor ceremonies, those attending must follow proper health and safety advice, including practising physical distancing from people who are not from the same household or their established 10-person social circle. 
These changes mean couples looking to marry are now faced with making new decisions and left asking many questions.
"What will it be like? That's a really challenging thing people for people to deal with right now," says Vanessa. "It's very emotional for them. They're weighing a lot of positives and negatives because it's not what they originally wanted."
She says some have decided to postpone until they can stick with their original plans, while others for personal and even cultural reasons, are choosing to go ahead and hold a smaller gathering.
"They may decide to have a virtual ceremony they can share with guests near and far on the planned wedding day and have a reception at a later time," says Vanessa. "I don't think there is a right or wrong answer. It's whatever they're going to feel the most comfortable and happy with."
Virtual ceremonies have become a popular alternative for not only weddings, but also funerals as industry experts do what they can to ensure their clients' needs are met.
"One of the jobs of a funeral director is not just helping people co-ordinate a funeral that's unique and personalized, but to provide them with all the information so they can make an informed decision," says Jon Rolleman, Managing Funeral Director of Coutts Funeral Home in south-end Cambridge.
When it comes to planning a funeral during COVID-19, he and others in his industry have also quickly learned to pivot in wake of strict health restrictions.
Through the course of the pandemic, Jon says many clients chose direct cremation or immediate burial for their loved ones due to the uncertainty of the situation, while others chose to have a limited number of immediate family members take part in a visitation.
"They still got to have the closure they wanted, and I think some people weren't even expecting to have that opportunity," he says.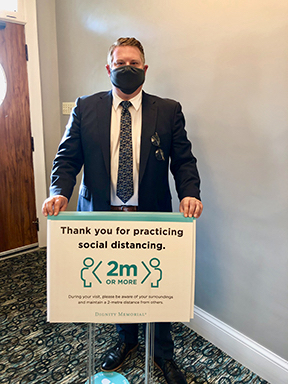 Like those in the wedding industry, Jon says his business practices have also been modified to provide more virtual options including a webcast of the burial service.
"It's nice to be able to provide that to the people who otherwise couldn't come," he says, noting Coutts Funeral Home also ensures through its online condolences system the bereaved know who attended the virtual service. "That way they can still reach out individually and still have the support they need."
For additional support, Jon says his clients also can utilize a compassion 'helpline' on the Coutts Funeral Home website that provides 24-hour access to a variety of services, including certified grief professionals and psychologists. The service is offered through its parent company Dignity Memorial. 
"We have some really amazing benefits from being part of a such a large network of funeral homes," he says, adding they have seen an increase in usage of the helpline during this time. "It's nice to know it's there and we get to offer that to our clients."
As well, clients of Coutts Funeral Home can also make arrangements online, however, Jon says many still prefer the more 'personal' touch of a face-to-face meeting.
"We leave it up to them," he says. "We prefer in person because there is so much more of an individual connection and that's a big part of what we do."
Despite creating new options and working within the ongoing restrictions, Jon says his key role and that of his team has remained the same throughout the pandemic.
"Obviously, our job is more empathy and compassion than anything else and making someone's difficult time easier and the way we approach a family has never changed," he says.
And with new safety protocols in place, which includes very specific physical distancing rules at visitations and following a series of guidelines, such as collecting information for potential contact tracing purposes, Jon and has team have learned to adapt very quickly.
"Personally, I'm very adaptive so it didn't stress me out," he says. "A big part of my role has been making sure I get all this information to my staff and help them manage the changes quickly and make sure their comfortable with the new systems."
They keep the capacity of mourners at 50 invited guests if a service is requested to take place at a church, or in a cemetery, which Jon says is quite manageable. 
"We want to do our part for the community," he says, referring to keeping people safe. "It's a real balance to be able to give families what they need."
Jon says the need for a funeral is imperative in the grieving process and feels sorry for those who decide to forgo that option. 
"People are justifying things in different ways for what they're doing, but they're really depriving themselves of what a funeral is and what it stands for and how it helps," says Jon. 
"They're depriving themselves of that opportunity, so I'm concerned about people's mental health going forward."
To rectify this issue, he hopes to be able to offer an 'open' memorial service, perhaps several, for those clients who have lost someone during the COVID-19 crisis and chose not to have a funeral.
"At least people who didn't do anything can have a more formalized service," says Jon, adding funerals are a celebration of life and are no longer 'traditional' as they once were. "Funerals are much more personalized and unique. Our job now is to give clients all the options so they can make informed decisions that are right for them."
The same sentiment holds true when it comes to planning a wedding, especially during a crisis like COVID-19.
"My biggest piece of advice is that whatever they decide to do it's going be great," says Vanessa. "If the couple decides they want an intimate ceremony with 10 of their closest people, their other friends and family will understand. And if they decide to wait another year and do the party as planned, that's a beautiful idea too."
For more, visit pearlehospitality.ca or  dignitymemorial.com