The pandemic has created many new shifts, especially when it comes to how millions of Canadians now spend a typical workday.
Even before this latest provincial stay-at-home order took effect April 8 requiring all those who can work from home to stay there, a recent Labour Force Survey indicated that 3.1 million Canadians were already working from home temporarily due to COVID-19 as of February 2021.
And for those working in their home office - which can translate into a spare room, the kitchen table or even the couch- trying to stay healthy can be difficult, especially when it comes to nourishment and physical activity.
"I think some people are working extra hard at home. They're not having separation of home and work and don't stop to eat, so they're not nourishing themselves as well as they should be," says Janet Jacks, founder of the highly successful Ontario-based organic food and supplement retailer Goodness Me! Natural Food Market. "And other people, because the food is nearby and there are little breaks, they go and grab something and are snacking a lot."
Janet says there has been a shift from the when the pandemic began, and Ontario went into its first lockdown in March of last year.
"In the beginning, people were so anxious to eat well and improve. I really sense that people took an interest in eating better food," she says, noting the popularity of the home baking trend last year. "But I feel like people are tired and although in their mind they know they want to eat better; they just feel like it's not always easy."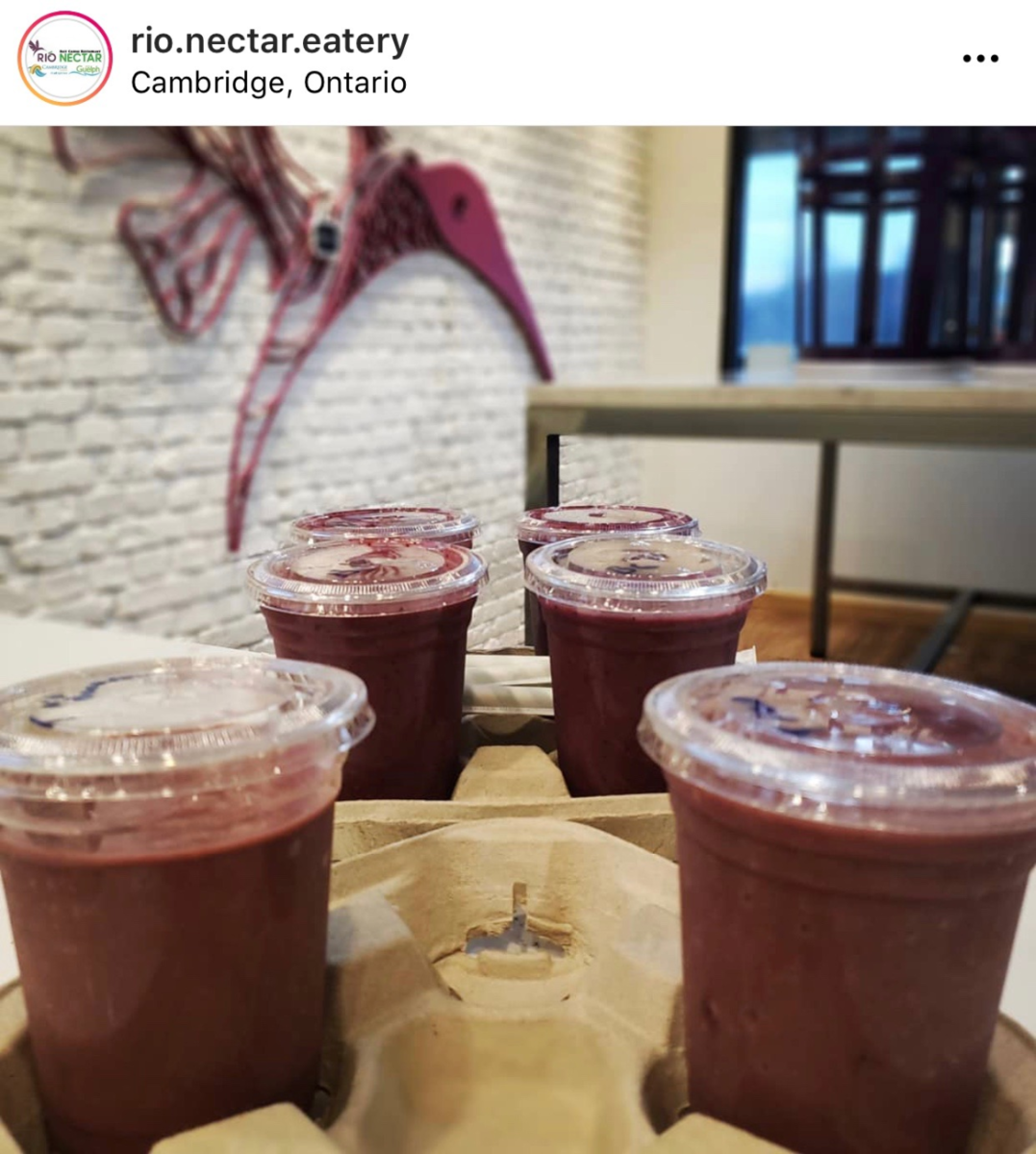 Shane Gray, owner of Rio Nectar Eatery in Cambridge and Guelph, agrees and says many people are even busier at home, whether with work or new hobbies, so eating healthy doesn't appear to be an option.
"People are still grabbing fast food and choosing less healthy options because I'm also finding we're getting fatigued quicker," he says, adding the pandemic has left many feeling unbalanced. "As human beings, we need balance and we're all off balance right now."
That's why scheduling is so important, says Ashley Viljoen, Regional Manager for Anytime Fitness.
"First and foremost, the best advice I can give someone is stick to a schedule just like you would on a workday," he says. "If you normally work to 9 to 5, make sure you work 9 to 5. If you used to go to the gym from 5:30 p.m. to 6:30 p.m., still make the time to get out and exercise and be active during that time."
To ensure its members remain connected, Anytime Fitness has been offering online coaching to encourage them to keep up with their routines and stay in the best physical shape they can be, especially with the threat of COVID-19 variances.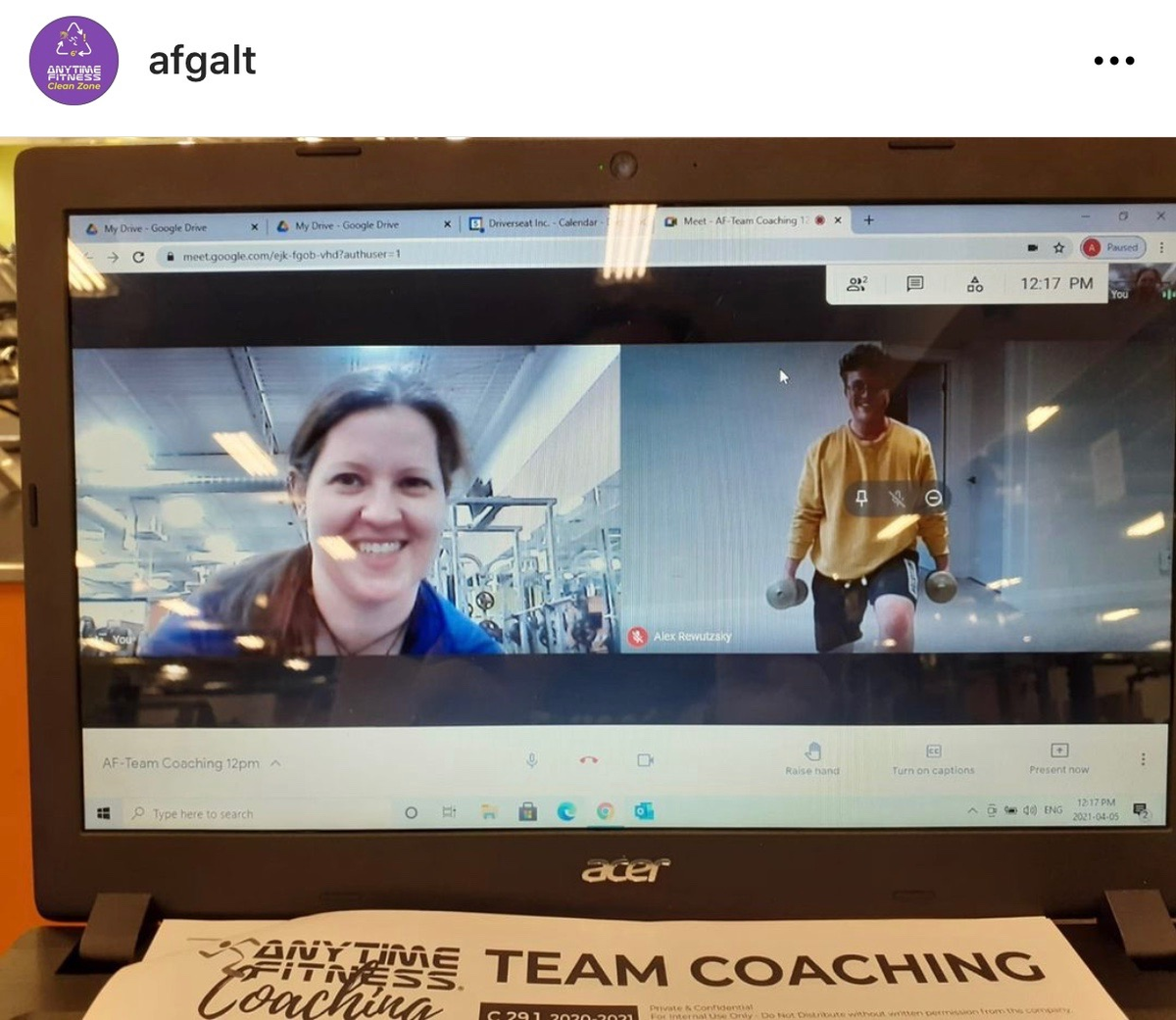 "We have a team of coaches that look after them and provide them with online workouts," says Ashley, explaining it was something the company was looking at prior to the pandemic and expects will continue. "We're trying to find a market that's going to accommodate everyone at the end of the day."
He says working out a home doesn't require a great deal of equipment or space.
"You don't need a whole apartment to enable you to do a workout," says Ashely, noting even canvas shopping bags and water bottles or cans that can be adjusted for weight can work for an 'at home' training session. "All our workouts that we've based it on have been based on functional body weights and exercises."
Staying active, says Shane, who is a parttime paramedic and fitness enthusiast, is vital and urges people to get out of their home office and move around.
"Go for a quick walk, do something," he says. "It's not just important for your physical health but overall mental health."
But when it comes to eating, Shane suggests prepping meals ahead of time using non-processed meats like chicken or beef that can be quickly heated up is a great option during a busy workday.
"Most meals when you prep them can sit for about three days in the fridge, so now you've got something there you can throw in the microwave and eat," he says, adding eating 'clean food' is important for a healthy lifestyle.
Janet, who opened her first store in 1981, couldn't agree more and says eating healthy will manifest itself into being more productive at work.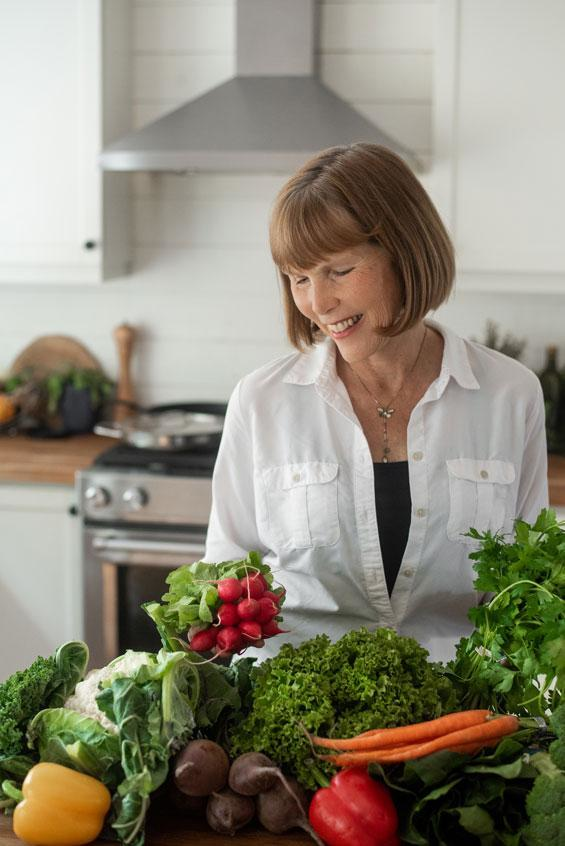 "If we could feel more energetic and feel like we're sleeping better and have more energy for other things it is more self-motivating," she says, noting the staff at Goodness Me! can offer some great nutritional advice.
10 pieces of advice from Janet Jacks regarding healthier eating while working at home:
1. Create a hydration plan.
"When we are thirsty, we tend to sometimes misinterpret that as hunger and we're eating when our body is really saying please drink something."  She recommends keeping a container of green tea or ginger tea, or even lemon water around. Also, if water is too 'boring' try throwing in some cucumber slices. She says ginger tea is especially cleansing and very detoxifying. "Whatever it might be, we need a plan to keep us hydrated because will be more clear-minded and have more energy and our body will work better."
2. Watch what you put in your grocery cart.
"When you're shopping, stock up on real food options, use fresh whole foods." This includes things like raw cheeses, avocados, nuts, olives, easy vegetables, Bok choy, naturally fermented pickles, tuna and salmon. She recommends sauteing some Bok choy or cabbage in a frying pan for a few minutes and enjoying it with a plate of vegetables is a quick and easy lunch.
3. Plan for leftovers.
"Some people are great at using leftovers, and others will see them languish at the back of the fridge and they will end up being thrown out. I think you should even plan for it." She says leftovers quite often are good for one person, which is great for lunch. She suggests cooking some hearty crockpot or Instant Pot meals that will provide leftovers. Or at dinner, she says cook extra vegetables so you will have some left for lunch the next day. "You can eat these things cold and they are very good, or you could warm them up quickly."
4. Keep boiled eggs handy.
"Just have some in a bowl in the fridge. They're so hearty and so healthy. All you need is a little bit of salt and you're good to go. They're great for snacking or lunch." Also, she says they provide a great source of protein.
5. Make or buy soup.
"I know we're coming into warmer weather, but a pot of soup is like planned leftovers. Having a big pot of soup in the fridge actually improves with sitting and you can just take out what you need. It's so fast and hearty. What's not to like?"
6. Each meal should have balance.
"Every time you eat, try to avoid grabbing a cookie and think about I need protein and fat and some kind of vegetable. If I'm going to eat a cookie, it could for dessert as part of that meal." She refers to this thinking as foundational nutrition and says meal portions are not as important as balance.
7. Utilize flexible hours.
"We have these flexible hours which are a great way to try intermittent fasting. It can be a very healthy mechanism. You eat your meals within a more compact window, rather than spread out." She compares this to the way farmers eat breakfast after they finish their morning chores, suggesting people who work at home could eat their first meal later in the morning after they start work leaving only a few hours before they consume dinner. As a result, she says if they don't snack in the evening, they could wind up with at least 10 hours or more between their next meal. "That way you give your body more chance to use what you've eaten and process everything. Often people feel better when they do this."
8. When you eat, just eat.
Janet says taking the time while eating to stop and savour your food, is important for digestion.
"You allow your digestion to have more power. Take a breath and enjoy the colours and the flavours of your food. Sometimes we eat and don't even know what we just ate."
9. Focus on food with a function.
"Food should taste delicious, but also have a function in the body. Think about food as nourishment that lowers stress or builds immunity, or soothes and restores and rebuilds your digestive system, or keeps inflammation at bay because that's the root of disease." She says knowing what foods can help your body is important. "When you're shopping, rethink food. Respect food and while eating it, think this is taking care of my body while I'm enjoying it."
10. Remember and recall.
"Quality food speaks volumes, and you can feel the difference."
For more information or tips, visit https://goodnessme.ca, https://rionectar.ca and https://anytimefitness.com