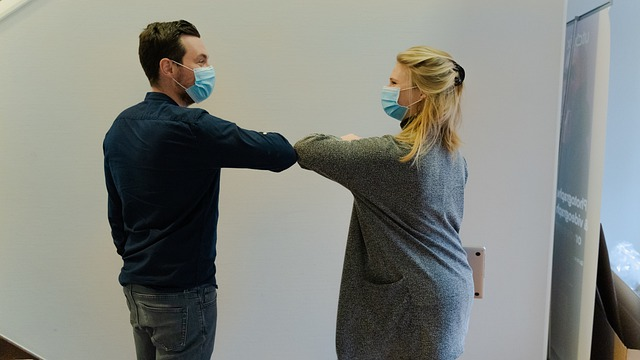 Having employees return to the workplace will be a welcomed sign for many as an indication the worst days of the pandemic may finally be behind us.
But that return will be accompanied by questions and concerns as businesses and their staff learn to navigate what is likely going to be a very different work environment – both professionally and personally - compared to the one they left in March 2020.
"There are a lot of employers and HR people who right now are putting together some policies and codes of conduct for their workplace," says Julie Blais Comeau, Chief Etiquette Officer at Etiquettejulie.com, explaining that these guidelines will be imperative for employees. "At first, generally speaking, we're all going to follow our employers' guidelines."
But outside of these guidelines there will be the personal interactions with both co-workers and clients, many of whom returning employees may not have seen in-person since the start of the pandemic.
In terms of these interactions, various safety protocols we've all lived with for the past year and half – wearing masks and staying socially distanced – will likely remain at the forefront of our minds when we once again are face-to-face with others.
"Before asking any questions or displaying certain behaviours, you're going to think back to your relationship with that person from before," says Julie, suggesting approaching from the perspective of 'friend or foe'. "You're going to want to switch that lens 180 degrees and approach them from an empathic perspective. How do you feel that person perceives you?"
She recommends letting a person's body language guide you, noting that 55% of communication is based on body language and that tone and pitch of the voice make up the remainder.
"Make sure that whatever you're going to do or say will be perceived in a positive manner," says Julie. "There will be nothing wrong with saying, 'I'm so glad to see you again – how are you?'. And then wait and observe the visual cues."
She says taking the cues from the person you're interacting with is very important, noting that in some cultures personal health issues are not something that is shared, while others may prefer to keep their mental and physical health status private.
"If you're going to ask questions then ask yourself why are you asking? Are you generally concerned or being cautious for yourself or is it just curiosity?" says Julie, adding being 'nosy' is not a valid reason. "What is the context of why I'm asking and what could be the consequences if it's not interpreted well?"
When it comes to sharing one's vaccination status, she says it's OK to volunteer your status if you are comfortable with that person but that others may not feel the same.
"Some people don't want to say because they're afraid of confrontation and afraid the other person is going to lobby for them to get vaccinated," says Julie, noting there are many reasons why a person may choose not to be vaccinated. "I think we have to be very benevolent and respectful for the people who don't want to."
Questions surrounding vaccinations and how employers must handle this issue is a key concern right now says Victoria Vati, Account Manager at Peninsula Canada. The company provides a variety of services pertaining to human resources and health and safety.
"Each individual workplace has a number of staff all of whom will have a different level of understanding and different opinions," says Victoria, noting ensuring staff remains safe but also feels secure are top priorities when it comes to implementing workplace guidelines and policies.
She says her company has been providing the latest information regarding the vaccines to ensure its employees have the education they need to make informed choices. Also, she says some companies may even provide a day off for employees to get their vaccinations.
"Finding a balance that works not only for your industry but for your staff will be the most important thing," she says. "Not every business has the luxury of having employees work from home. You need to find a good balance that meets health and safety requirements but doesn't infringe on anyone's human rights."
She says screening and contact tracing will continue to be very important, as well providing things such as hand sanitizer and even wearing masks.
"You can still argue right now masks are mandatory and must be worn in common areas, especially when social distancing rules cannot be applied," says Victoria, adding businesses can insist masks continue to be worn even if they are no longer mandatory in public places.
She says ensuring employees are aware of the health and safety policies that are in place is vital through signage and written communications.
"If you don't have it in writing, it doesn't really exist," says Victoria, referring to guidelines and polices.
She says the pandemic may have provided businesses with a unique opportunity.
"Let's try to come out of this with new ideas and a bright fresh start; it's kind of having hit the reset button," says Victoria.
Julie agrees and says etiquette is also constantly evolving.
"We observe with this great microscope what is commonly agreed upon as to what is acceptable for a large group of us versus another," she says, referring to etiquette experts like herself. "Society dictates what is appropriate."
For more information, please visit Peninsula Canada or Etiquettejulie.com.