The arrival of a third provincial shutdown could spell even more trouble to the food services sector, which has already been dealt a harsh blow since the pandemic began more than a year ago. 
According to a Statistic Canada survey (full survey: https://bit.ly/3t2CvbK) conducted from January to February of this year and released in March, nearly three-fifths (56.6%) of food services and drinking places were already anticipating their profits to drop between January and May of 2021 - even before this latest shutdown - compared to just over two-fifths (41.8%) of all businesses.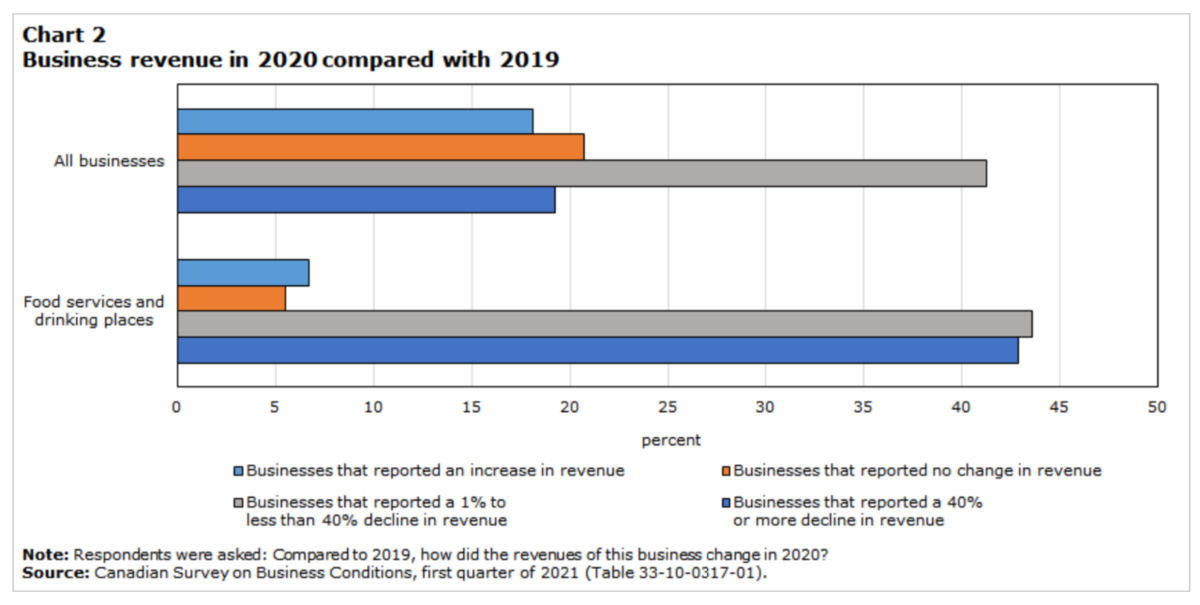 Tack these numbers on to the four-fifths (86.5%) of these businesses which already experienced a drop in revenue in 2020 compared to three-fifths (60.5%) of all businesses and it's easy to see why those in this sector are feeling very frustrated.  
For Matt Rolleman, co-owner of Thirteen at the corner of Water and Main streets in Galt, learning to adapt to the roller-coaster of rules contained within the provincial COVID-19 Response Framework has been an ongoing challenge for him and others in the food services sector. 
"You don't really plan for that," he said, referring to the 'up and down' restrictions. "That's been our biggest disappointment." 
During the first lockdown last year, Matt said like many restaurants he was left with an abundant of product and nowhere to sell it. This included 22 kegs of beer which had been tapped and could no longer be sold.  
Like many other restaurant operators, he donated food to those in need in the community and had no choice but to dump the beer.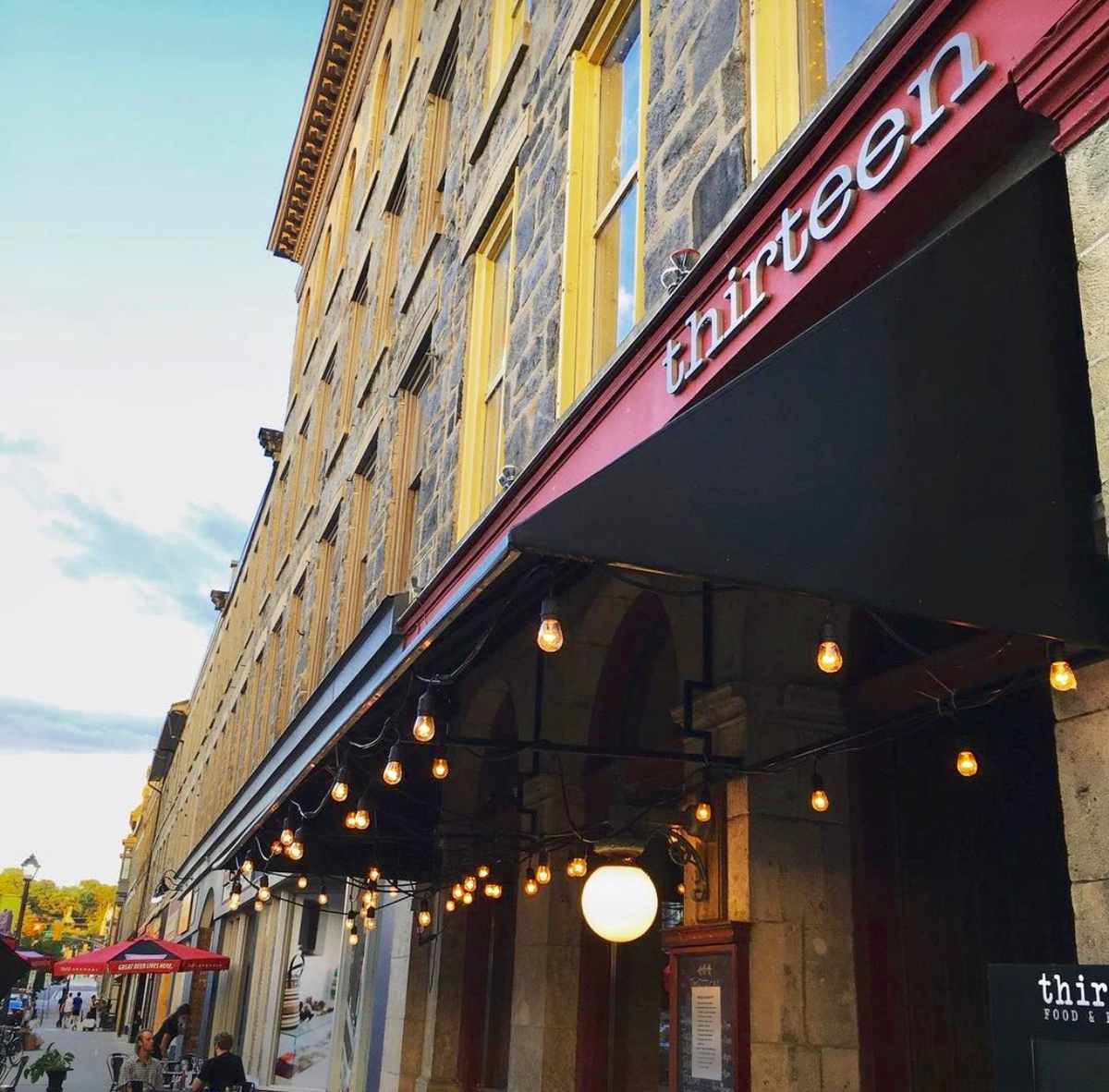 "Since then, we've been more cautious when we bring in products," he said, noting the introduction of a scaled-down menu which had been slowly increasing after the second lockdown ended in mid-February and Waterloo Region went into the 'Red Zone' allowing a maximum of 10 diners inside. 
In an interview just prior to this latest shutdown, Matt said he had brought back some additional staff and that a few above-seasonal days resulted in patrons enjoying the outdoors on Thirteen's patio Main Street. In fact, he's made an application to increase the restaurant's patio along the Water Street side of the building.  
"Even being open in the modified Red Zone and business was good on the weekend," he said, noting that patio season really won't ramp up until the end of June.  
Add in takeout sales, something Matt said Thirteen did very little of before COVID-19, and he was seeing sales of up to 40% to 45% on a 'good day' of what he would have made prior to the pandemic. 
"But from that perspective, our business model wasn't generated on the idea that we were going to do 50% to 55% less sales," he said, adding utilizing the various support programs, such as the Canada Emergency Wage Subsidy (CEWS) and the Ontario Small Business Support Grant, are imperative to small business operators. 
"If there were no wage subsidies, we'd probably wouldn't have re-opened, or we would have just been doing takeout at a very basic level because it just wouldn't be worth it." 
The survey shows that at their current level of revenue and expenditures, more than half (51.2%) of food services and drinking places are unsure how long they can continue operating. 
Fortunately, Matt said owning the building that houses the restaurant has helped but that many others are not in the same boat. 
"If I was a restaurant owner that had this much space that I was paying rent for I may have may have packed up my bags and went home for a while," he said, adding that having cashflow on a busy day is helpful when it comes to paying the bills. 
"But the grant program (Small Business Support Grant) is crucial for us when we decide to increase our inventory and want to bring back more staff," said Matt. 
He recommends SMEs like himself utilize as much government support as possible. 
"Just throw stuff at the wall and see what sticks," he said. "If you truly need it to help your business survive, then get at it. We're all going to be paying it back anyways." 
Matt, who describes himself as a realist, said he remains confident in his business but admits it's difficult for him and his staff to stay optimistic, especially when it comes to dealing with the COVID-19 safety protocols in addition to their regular work duties.  
"I think they're just getting worn down," he said, adding even seeing the framework return to the 'Orange' or 'Yellow' zones would boost morale. 
"I would love to see the Drayton theatre (Hamilton Family Theatre) open again but am not sure how that's going to happen. It's such a vital part of the downtown core just to bring people in." 
But in the meantime, Matt said he finds hope in seeing more people being vaccinated and remains passionate about running his own business, which includes pitching in to help his staff as much as he can. 
"You need to go back to your grassroots of what you can do," he said. "If that means I'm sweeping the floor and washing dishes, that's life. It's not necessarily where I saw myself being, but that's what you do to keep your business alive if you truly believe in your business." 
StatsCan survey at a glance: 
In 2020 nearly one-fifth (19.4%) of food services and drinking places made 30% or more of their total sales online, more than double the proportion that did in 2019 (9.1%).
Over four-fifths (86.5%) of food services and drinking places experienced a decrease in revenue in 2020 compared to three-fifths (60.5%) of all businesses.  
A decline in revenue of 40% or more in 2020 was a reality for over two-fifths (42.9%) of food services and drinking places, with those in Quebec (50.9%), Manitoba (47.9%) and Ontario (44.9%) most likely to see this level of loss. 
At their current level of revenue and expenditures, over half (51.2%) of food services and drinking places do not know how long they can continue to operate before considering closure or bankruptcy.