With travel and tourism in general still off the agenda due to the lingering impacts of COVID-19, many people have been transforming their own backyards into the ideal 'destination spot'.
The term 'backyarding' has become a very familiar one for those who specialize in the home and garden industry, especially over the course of the last few years.
"Backyarding has grown phenomenally both on the backyard garden side of things and the home gardener aspect of it as well as the bird feeder side of the business for us," says Ian Graham, General Manager of Pinebush Home & Garden Ltd. "People are spending a tremendous amount of time in their backyards."
He says the pandemic has only amplified the situation, noting a significant increase in business at the Sheldon Drive wholesale facility which offers bird feeders and garden tools and is a subsidiary of B.C.-based West Coast Seeds.
"We had already slated ourselves for some serious growth going into 2020," says Ian, outlining how the company moved from Mount Forest to its brightly coloured 30,000-square-foot facility in Cambridge nearly two years ago with plans for product expansion related to its parent company in B.C. "Then COVID-19 hit, and we could barely keep up with things out west, so we've had to postpone doing it (expansion) until the next calendar year."
And although June and July are a slower season in the seed business, since most planting is conducted in the spring, he says business has remained steady not only this summer but throughout the pandemic for him and the handful of his employees who work in Cambridge.
"There was already a movement towards sustainability, and about growing your own food," says Ian, noting the pandemic has only enhanced it.
"Gardening and birding are very much people's passions," he says, joking how he
has installed eight to 10 bird feeders in his own backyard.
"It can be very addictive," says Ian.
The results of a 2020 HomeStars report indicated that using their extra time at home to create a 'backyard oasis' has been a popular pastime for many.  
According to the report, the results of which were published in April by Realtor.ca, show nearly half of survey respondents took the time to make many outdoor updates, such as adding landscaping, fencing, building a deck, or creating 'kitchens' or 'living rooms' outdoors.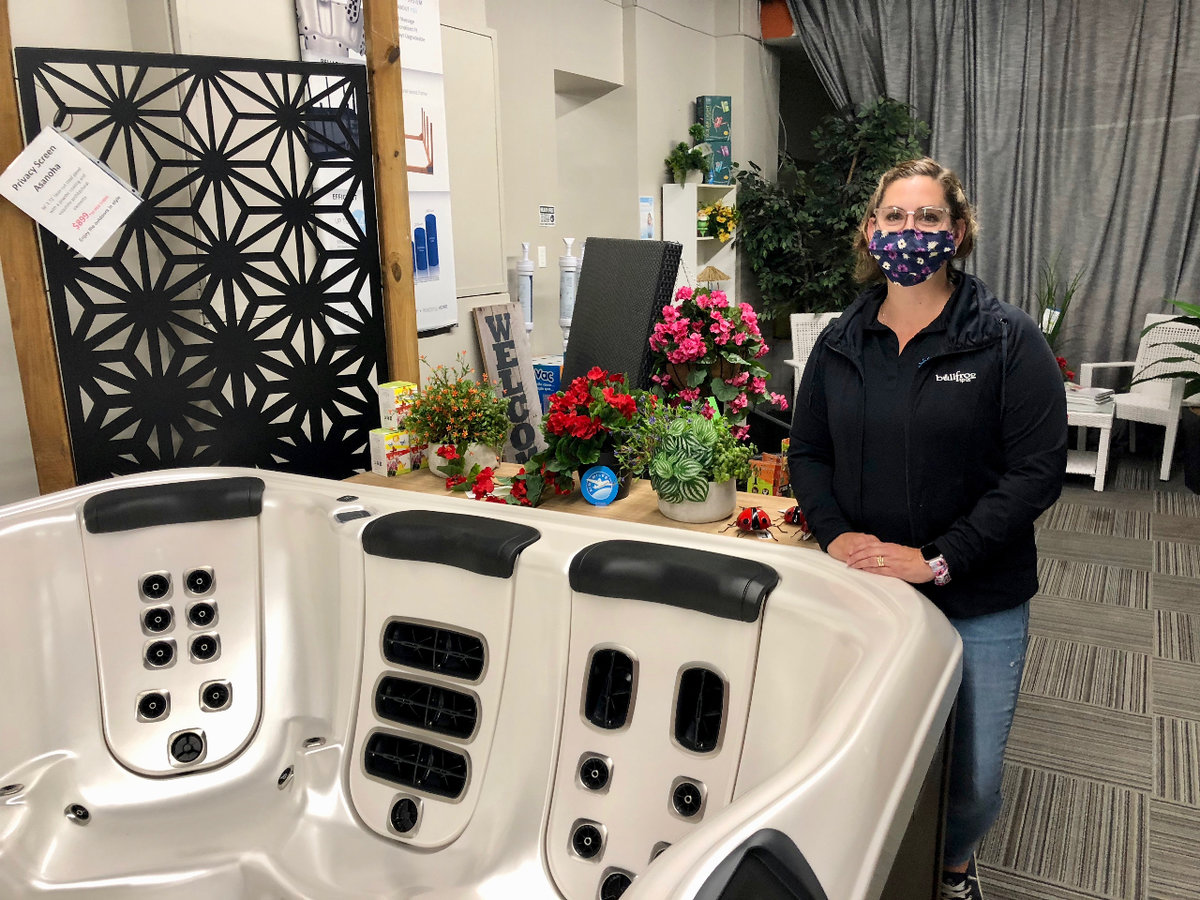 As well, pool and hot tub installations are also near the top of the backyard 'wish list' of many homeowners, just ask Cambridge Pool Supplies owner Melissa Deverell.
"Last year the pandemic was still very new to everybody," she says, taking a break between helping customers at the family-owned business on Dundas Street North. "At first, people weren't leaving their homes because they were scared, but we became overwhelmingly busy once people realized we could still help them out curbside."
However, fast forward a year and Melissa says the picture has dramatically changed.
"It's been absolute insanity. In all the years I've been here, I've never experienced anything like this," she says, describing the demand for pools, hot tubs and supplies which quickly skyrocketed, noting they installed their first pool at the end of March. "Everybody seems to be spending money on their homes that normally they may have spent on themselves."
Melissa says business became so brisk she and her sister, Becky Smith, called in their mother, Anne, who retired from the business several years ago, to help.
The company has even left the deadline for its pool opening services 'open ended' to assist folks who have been late out of the gate getting their pools ready.
"I've had to hire extra people," says Melissa, noting this is the busiest year she's experienced in the eight years of owning Cambridge Pools and Supplies and that keeping up to the demand while following provincial restrictions does offer its challenges.
"There's nothing easy trying to run a business curbside, especially when it's supposed to be so interactive," she says, adding having customers back in the store and the support of the community has been wonderful.
Among the more popular items being sold at the store, besides pool toys and 'fun' signs, patio furniture is near the top of many lists.
"Usually, we only pick up a couple of pieces a year. But this year, we brought in a whole line of furniture," says Melissa.
As well, she says many customers are paying even closer attention to the quality of their water because of COVID-19.
"We've had more people come in and get their water tested and learn more about water chemistry and what are the proper parameters to ensure their families are safe," says Melissa. "It's a question that should have been asked years ago."
She says going forward, she expects some changes will remain in place at the store, such as keeping a hand sanitizer station at the front door and a plexiglass shield at the front counter.
"It changes your whole mindset," says Melissa, referring to the impact of COVID-19. "I don't know what the next year is going to be like, but I know once a pool is installed that's maintenance for life."
For more, visit  https://www.cambridgepoolsupplies.com and https://www.pbhomegarden.com
PULLOUT: The top-10 home improvements in 2020 according to HomeAdvisor:
1. Interior painting
2. Bathroom reno
3. Flooring
4. Landscaping
5. Kitchen renos
6. Exterior painting
7. Smart home technology
8. Roofing
9. Fencing
10. Deck or Porch