A proven, but not widely used technology, is giving one Cambridge business the opportunity to pivot its operation during the COVID-19 crisis.
Angus Audio, which provides a wide variety of technical services for theatre, music and corporate events, has shifted its focus in another direction. Under the banner of a new division called Angus Industrial, the company is focusing attention on the distribution of ultraviolet light disinfection systems suitable for a variety of workplaces, such as loading docks, production halls and offices.
Angus Industrial has joined forces with Luixbel, a Belgium-based company, to provide two disinfection systems designed for surface and air disinfection.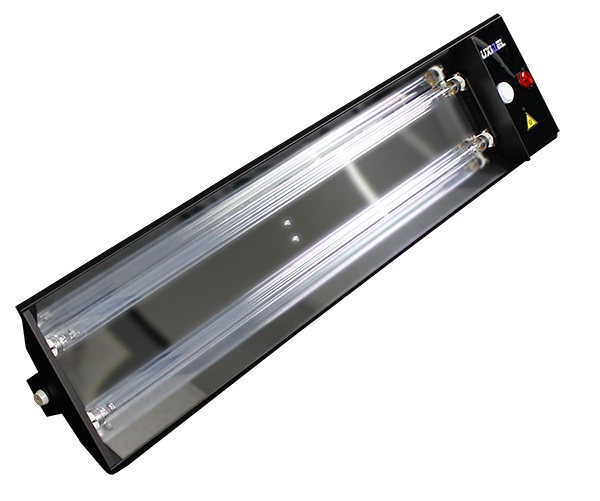 "It's a pretty high science, but at the same time, they've made it easy to understand," says Marshall Angus, noting much of the same technology his company uses to calculate beam fields for lighting up events comes into play.  "You can pretty much kill off any surface virus or bacteria, based on a math equation."
He says ultraviolet light technology has been around for a long time. 
In fact, the germicidal properties of sunlight were first discovered in 1877. But it wasn't until 1903 did Niels Fensen win a Nobel Prize for his use of ultraviolet light to combat tuberculosis, did the technology first come into play. A few years later, the first drinking water disinfection system using ultraviolet light began operating in France. After that, the technology changed little until tubular lamps were developed in the 1930s, and by the 1960s, UV disinfection was becoming more widely used in commercial applications.
"It's pretty cool stuff," says Marshall, noting that educating people on the properties of UV disinfection is key.
He says the systems they distribute, which range in price from $1,000 to $1,300, are ideal for a variety of applications, especially in a production line situation where they can be operated safely between shift changes and on average take about 15 to 20 minutes to 'cleanse' an area. 
"They would just become part of the cleaning process you already have in place," says Marshall.
One system, the B Direct II, uses light bulbs and must be operated without anyone in the room for safety reasons. The other system, B Air, can be operated safely with people in the room.
"The bulbs will only have to be changed once every couple of years," says Marshall, adding each system comes with a variety of safety features, including motion sensors and alarms. "If someone comes into the room, the system will shut off."
He says the systems could also help build consumer confidence in a company's products.
"There's stuff coming off trucks covered in plastic wrap and you don't know where it's been. You can put a couple of lights in your loading dock to clean the skeds before your employees even touch them," says Marshall. "And if you buy something from a particular warehouse, you now know it's guaranteed to be clean coming out because of the process they have in place."
He says this is a product that should have already been place years ago, even before the pandemic.
"But there wasn't a market call for it then," says Marshall. "It's a proven technology that has been used in the medical industry, however, the units in the medical field can cost at least $30,000 which makes them unattainable by small businesses."
But learning to make changes in business can be necessary, which he says he has witnessed firsthand in his own industry since the arrival of COVID-19 has seen most of the events Angus Audio handles cancelled or postponed.
"There have been a few different things pop up," says Marshall. "But we don't think this industry is coming back probably before the summer of next year."
To combat this, besides the UV disinfection systems, he says Angus Audio has also been providing studio space at its Turnbull Court headquarters for companies wishing to create more professional online productions and content.
"People are being really inundated with streaming content right now and a lot of it is not good quality because it's off a web cam," says Marshall, adding Angus Audio has the equipment and expertise to polish any project. "We can also interface the system with other platforms, like Hopin, and run it with multiple people."
Visit angusindustrial.ca or angusaudio.com to find out more information.