The importance of rapid screening in the battle against this pandemic has been seen as the preferred weapon of choice near the top of the wish-list of health experts and members of the business community since the first cases of COVID-19 were detected more than a year ago.
Thanks to the recent introduction of our pilot project that is seeing thousands of Abbott Panbio Antigen screening kits distributed to Waterloo Region SMEs (under 150 employees), many local businesses now have the capability to conduct rapid screening.
"If all businesses would jump on board with this process, then we would be able to keep a better eye on the virus as well as the variants," says Cynthia Fernandez, owner of Accurate Auto Appraisal in Cambridge.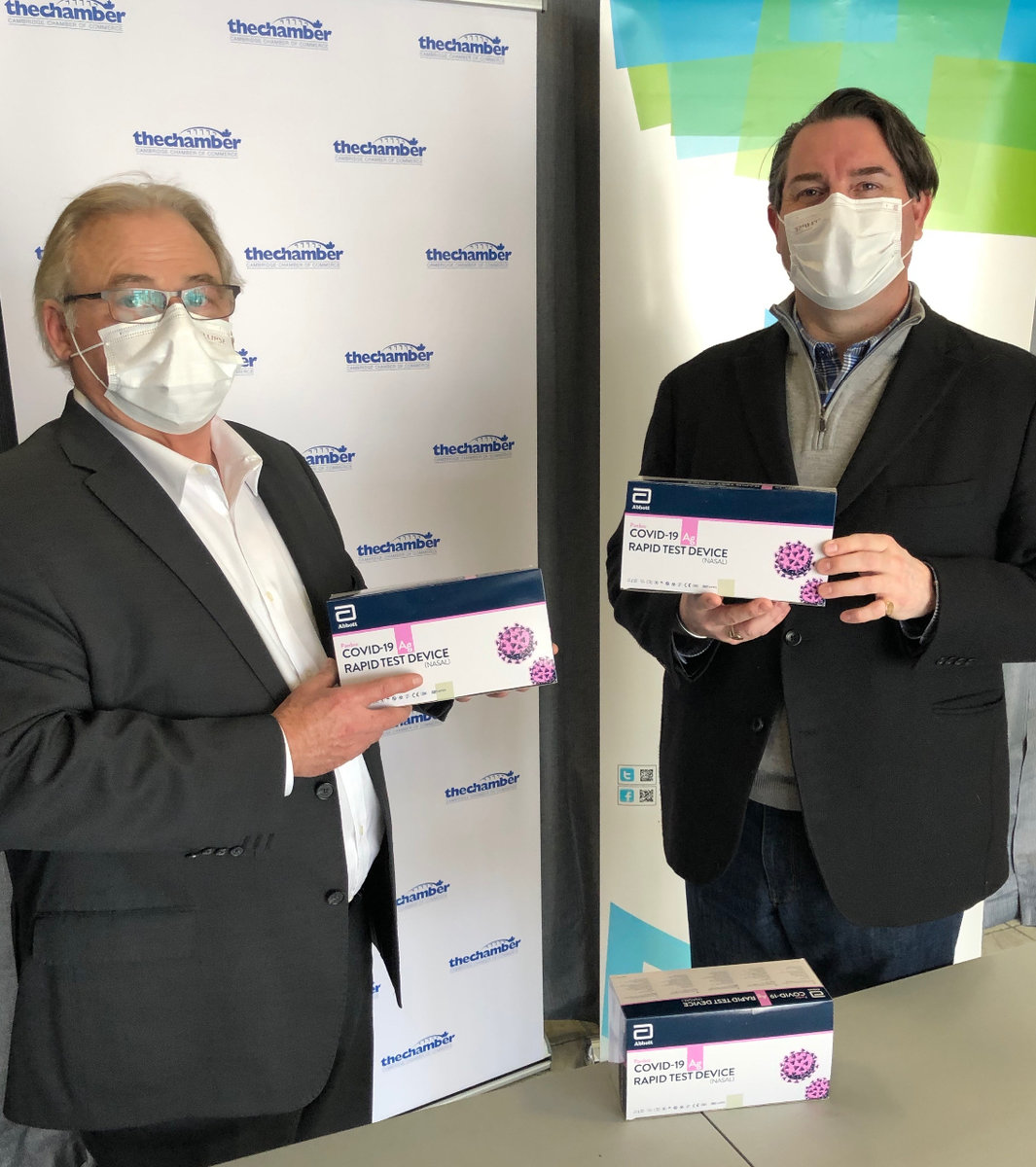 She is among at least 1,500 businesses in our region that have utilized the free kits through the www.chambercheck.ca website since the initiative was launched April 5.
The goal of the program, created through Health Canada and in partnership with the Greater Kitchener Waterloo Chamber of Commerce and Communitech, is to identify asymptomatic or presymptomatic individuals in effort to prevent the spread of COVID-19 in the workplace, at home and around the community.
Volunteers prepare the kits for pick-up at Cambridge Chamber's office at 750 Hespeler Rd. and in keeping with all the necessary safety protocols, a designate from each SME receives video training when they pick up their kits that explains how to properly supervise the screening process and safely dispose of the used kits.
"We know that rapid screening has always been the key when it comes to curbing the spread and having these kits is a great way to assist our SMEs get back on track after a difficult year," says Cambridge Chamber of Commerce President & CEO Greg Durocher. 
Cynthia agrees.
"It is a very nerve-wracking thing to still go to work (outside of the home) and know that it's still a very real possibility," she says, referring to the threat of contracting the virus. "Everyone who works for Accurate is very receptive of the screening and it provides a peace of mind for them and their families as well."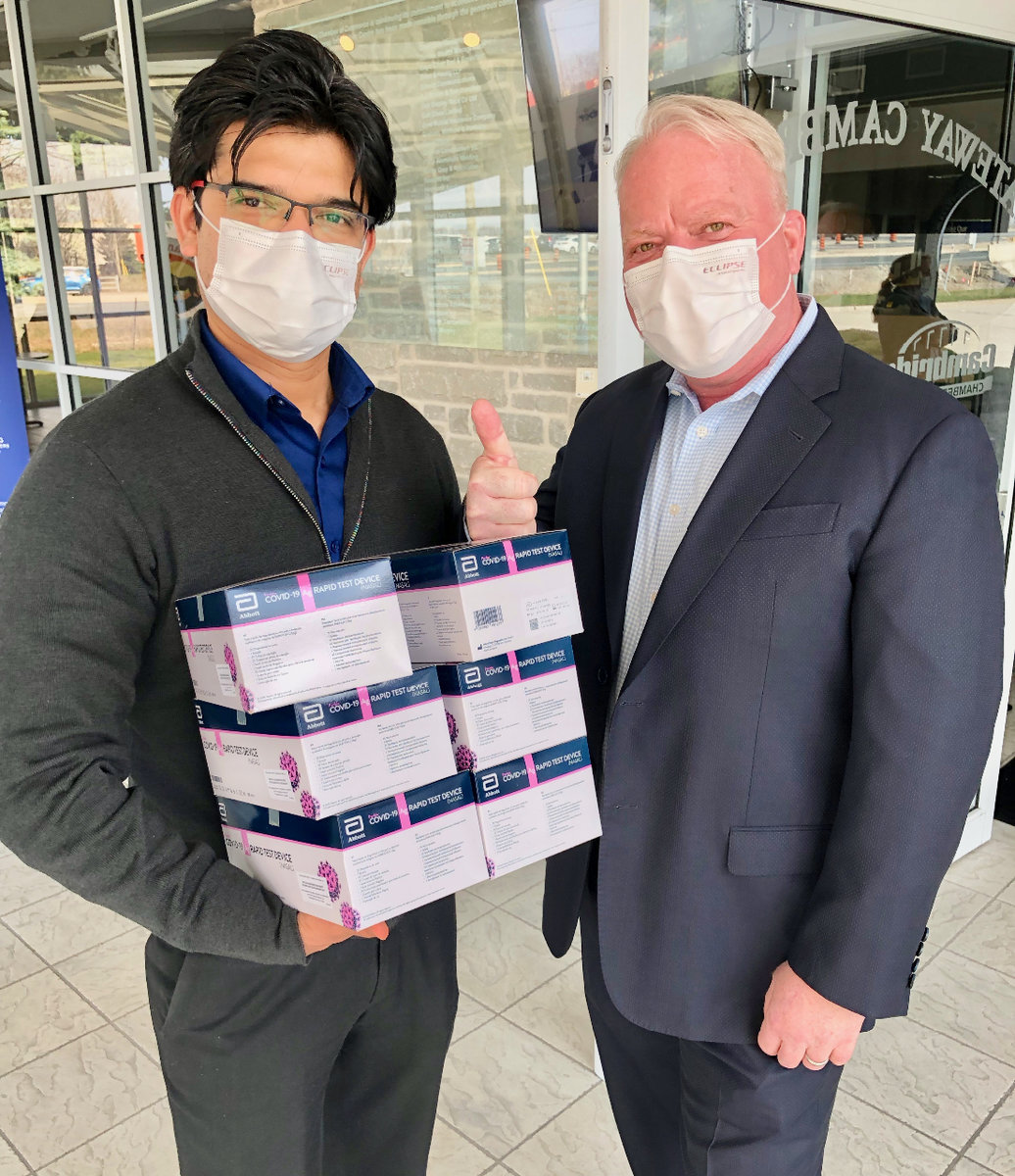 Shimco President and CEO Peter Voss has discovered the same after utilizing screening kits for his staff.
"Employees have commented that they feel safer now coming to work, and they are more comfortable going home to their families now," he says, noting they are conducting the recommended two sets of screenings every week.
In accordance with safety protocols, if a screen results in a positive for COVID-19, the employee is required to leave the workplace and notify public health to arrange for a PCR Test at an approved Public Health Collection Site and await further instructions from Waterloo Region Public Health.
"Our employees see it as a positive addition to our already strict COVID cleaning and screening procedures," says Sara Chamberlin, Human Resources Manager at Cambridge Hotel & Conference Centre.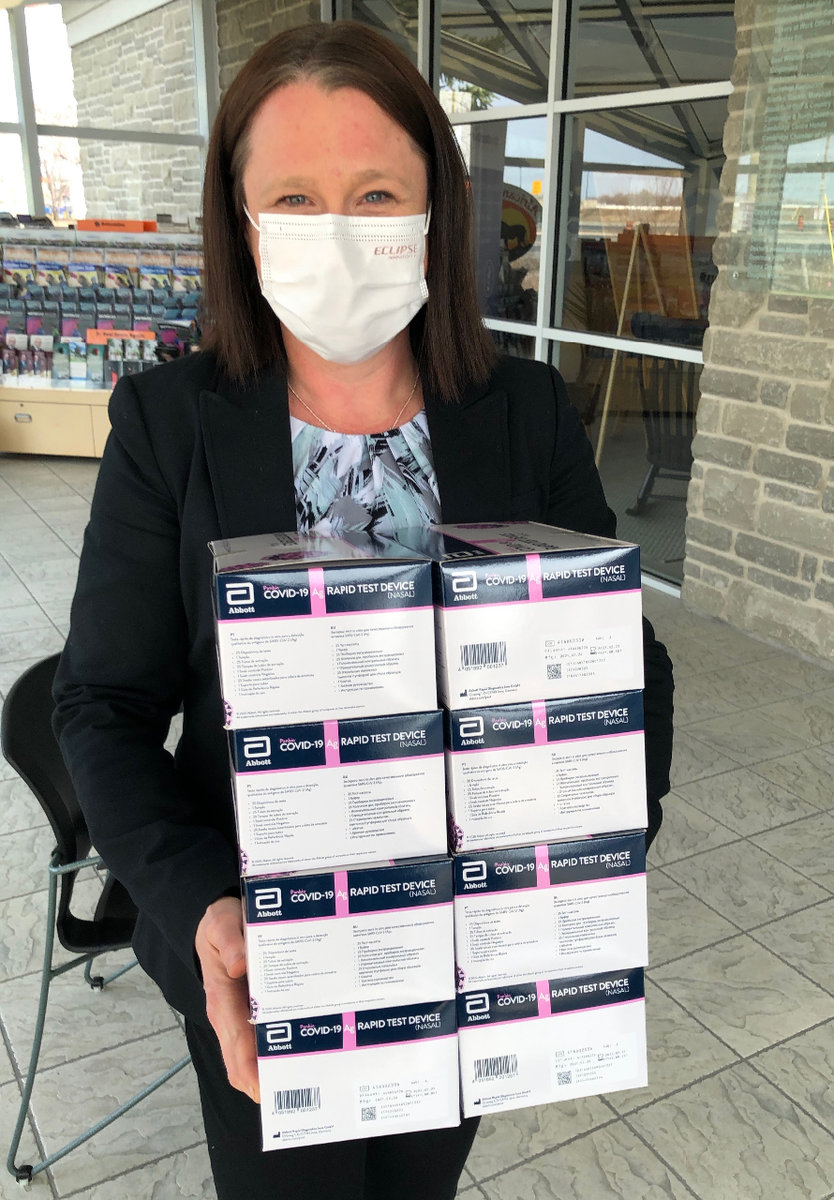 At Swift Components Corp., Managing Partner Kristen Danson says having the kits has instilled confidence in her employees, including two additional hires the company made after she picked up her first order of kits the day the program was launched.
"Initially, when I said to them it was onsite work, they were quite cautious which is to be expected when starting in a new workplace," she says. "(The kits) have really helped the new people to our organization see that we are taking this seriously and we have a process in place to control things."
Besides helping employees, having a rapid screening process in place has also inspired more confidence for the clients of these businesses.
"For vehicle appraisal, it is very calming for the customers that we need to see in person to know that any of our appraisers that come out to see them are in fact negative, as well as vaccinated," says Cynthia. "We are so very blessed to be able to have access to them; I feel that it has been a helping with anything that we need to see in person."
The majority of those who've accessed the kits say the process is relatively easy to navigate in terms of ordering and administering them.
"You have to find a way that works in your system," says Kristen, explaining how at Swift Components the first round of screenings were administered in a boardroom. "It took forever to rotate people through. But then we realized we have a cart with wheels that we were able to take out into the production area and literally do the screenings on the shop floor."
She says this simple change expediated the process considerably.
"You just have to look at your process and space and figure out what works."
Kristen says her company has picked up a second order of kits.
The initial orders provide businesses with two weeks of screening kits, but most are interested in obtaining more.
 "Should we use the supply we have been given, we will be requesting more as we continue to promote the benefits of the program to our team," says Sara.
Peter feels the same.
"I know it's not possible currently, but I liked to do the screenings daily if there was enough supply," he says, adding his employees are screened before they even enter the building.
Each SME is required to electronically submit their screening results after each occasion and the accumulated data will be reported to the Ministry of Health bimonthly.