It's never been easier to
VOTE.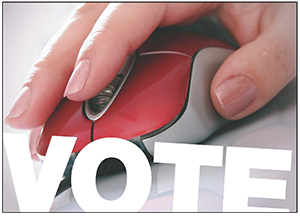 Thanks to modern technology you now have the ability to vote from the comfort of your own home. Cambridge is making voting easy - vote online or by phone from October 11-25, unless you'd rather drive to a polling station. Election day is October 27, 2014.
The Cambridge Chamber of Commerce has invited all candidates to participate in one-on-one interviews. These will be available for viewing on October 2nd.
Cambridge Chamber of Commerce Awarded Highest Level of National Accreditation


The Chamber Accreditation Council of Canada has announced following a detailed review of the Cambridge Chamber of Commerce's core operations, that the Chamber is Accredited with Distinction.

"Over the past decade, our Chamber Board and Staff have been working tirelessly to not only build our Membership to be one of the largest Chambers in the Country, but to also become an industry leader nationally and internationally," says Ken Zelazny, Chair of the Board and President of ActionCoach business coaching Cambridge. "This Award and acknowledgement from CACC is a testament to the value our Membership puts on building a strong and professional, business development and advocacy organization in Cambridge."

Representatives from all levels of the chamber network formed the Chamber Accreditation Council of Canada (CACC) and launched a national accreditation program designed to recognize chambers that satisfy a set of high standards and practices—chambers that seek to stand out, that look to the future.

Accreditation is a formal acknowledgement that member chambers of commerce/boards of trade have been successfully evaluated by the CACC against rigorous national standards of policy, service and performance.
Greg Durocher, President/CEO of the Cambridge Chamber said, "This acknowledgement from the National level is quite obviously, something we are very proud of and demonstrates the commitment we made a number of years ago to build an organization that has a strong, united and passionate voice of ideas, innovation and community building."

The CACC seal of Accreditation with Distinction ensures that a chamber maintains:
• Strategic focus on core chamber activities.
• Uniform practices, policies across the network.
• Dependable governance procedures.
• Distinctive brand identity. A competitive edge against other business
organizations.
• A stronger "voice of business" in your community. An increased role in
national and international policy advocacy.
The Cambridge Chamber of Commerce proudly calls itself a Community Based Organization keenly interested in the development of Cambridge as a caring, safe and prosperous community with an abundance of opportunity. We're proud of our accomplishments in attaining Accreditation with Distinction, and we'll continue to provide our community with strong and balanced leadership.

Chamber University Offers Sales & Marketing Courses
Marketing and selling products in today's competitive business environment requires a specialized set of skills. The Sales and Marketing eLearning Center will help our members develop those unique talents through online learning. Click here for a listing of courses.
Chamber Perks Program
As a member of the Cambridge Chamber of Commerce, you have access to a host of Perks that come with membership. Through partnerships with Chamber members, we've established discounts to help you in your business. Whether it's driving more customers through your door or helping you lower some overhead costs, all of our programs are designed to help you succeed. View our Chamber Perks.
Member Profiles
Each month The Chamber features members as our Profile Businesses of the Month! It's a monthly feature favourite, where local businesses have the opportunity to tell other Chamber members – and the public – about who they are and what they do. View this months Member Profiles.